House prices up by 0.7% in January, Nationwide says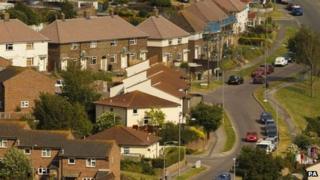 UK house prices increased by 0.7% in January, and were up 8.8% from the same month in 2013, according to the Nationwide Building Society.
Robert Gardner, chief economist at Nationwide, said activity in the housing market was returning to "more normal" levels.
He said the momentum was the result of rising employment, low mortgage rates and higher confidence.
The average price of a home stood at £176,491, the building society said.
The Nationwide's figures, based on its own mortgage data, come after surveys showed a sharp increase in housing market activity towards the end of 2013.
The interactive content on this page requires JavaScript
Over the year as a whole, there were more than one million properties sold, according to figures from HM Revenue and Customs (HMRC).
'Lifeblood'
The Nationwide is the first to estimate the direction of house prices at the start of 2014, ahead of other surveys to be published in the coming weeks.
The building society said first-time buyer activity was continuing to recover. It said 32% more people bought their first homes in the third quarter of 2013 than over the same period in 2012.
"First time buyers are the lifeblood of the housing market," Mr Gardner said.
"As well as accounting for a significant proportion of housing transactions, historically around 40% of transactions involving a mortgage, they also play an important role in the wider market, for example in helping to complete chains, enabling those that already own a property to move."
He said the typical first time buyer's home cost around 4.6 times their average earnings, which he stressed was "well below" the record highs of 5.4 recorded in 2007 although it is above the 20 year average of 3.6 times earnings.
However, he warned that borrowers should be primed for interest rates to rise.
Help to Buy
Nationwide suggested that increased demand led to house prices rising by 8.4% over the course of 2013.
This was higher than the estimate published by the Land Registry on Wednesday. It said that prices in England and Wales had grown by 4.4%, although the figures are calculated in a different way.
The Land Registry said that the annual change in prices varied considerably in different regions.
The biggest rise was an 11.2% increase in London, but there was a fall of 0.1% in the north east of England.
The increased demand is thought to be the result, in part, of government schemes aimed at adding some impetus to the market.
Figures released on Tuesday showed that there were 12,875 properties bought in England with the support of the Help to Buy equity loan scheme in the first nine months that it operated.
Under the scheme, which started in April, the government offered a 20% equity loan to buyers of newly-built properties. These buyers were required to offer a 5% deposit.
The biggest take-up, based on local authority areas, was in Leeds, Wiltshire, Central Bedfordshire, Milton Keynes, and Manchester, the Department for Communities and Local Government (DCLG) said.
These schemes are aimed at helping buyers with a steady income but who are unable to raise a large deposit.
But there are concerns that a housing bubble might be created, and that rising prices could make home ownership unattainable for some.
Howard Archer, chief UK economist at IHS Global Insight, said: "We believe that it is very important that the Bank of England has indicated that it is prepared to take further action to rein in the housing market if prices continue to rise markedly amid ongoing strengthening activity."