Paul Flowers 'good at Co-op aptitude test'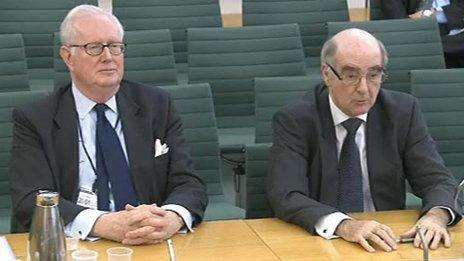 Disgraced former Co-op Bank chairman Paul Flowers did very well in psychometric tests in interviews for the role, a committee of MPs has heard.
Mr Flowers, a Methodist minister with little experience in banking, became chairman of the board in April 2010.
Rodney Baker-Bates, who was also a candidate, told MPs that they may conclude that Mr Flowers was given the job as he had done well in the tests despite his lack of banking knowledge.
Co-op Bank was rescued last year.
Mr Baker-Bates, ex-chairman of Britannia Building Society and a former senior executive of the Prudential and the BBC, was giving evidence to the Treasury Committee.
He said that there was not much discussion about banking experience in the interview for the role of chairman, conducted by three members of the Co-op Group board, and no references were asked for.
However, he said that there were psychometric tests, which generally test aptitude or personality, and he found out afterwards that Mr Flowers had done very well.
Last year, a rescue deal was required with bondholders after it emerged the bank faced a £1.5bn black hole. In addition to the bank's financial problems, it was hit by scandal when Mr Flowers was arrested for alleged drugs offences.
Mr Baker-Bates and David Davies, who were both deputy chairmen of Co-op Bank, said that Mr Flowers had "worked hard" to learn about banking, although he did have a lot of experience regarding the group as a whole.
However, Mr Baker-Bates said that he did not believe that Mr Flowers had sufficient experience to be chairman of a bank. Mr Davies said that he understood that Mr Flowers had been appointed owing to his "leadership skills".
The committee is investigating why a deal between Co-op and Lloyds to buy 632 Lloyds branches, known as Project Verde, collapsed.
Co-op announced plans to bid for the branches in 2011.
Co-op Bank withdrew its offer for the branches in April last year, blaming the "economic environment" and "increasing regulatory requirements on the financial services sector".
Mr Davies, a former chief executive of Pearl Assurance, and Mr Baker-Bates were both against this takeover. They both resigned over the matter.
Mr Baker-Bates said that he considered the proposed acquisition to be a "giant step too far".
"I wished to resign because of my opposition to Verde," he said
Mr Davies said he wished that they had stopped the project earlier.
Following the hearing, Andrew Tyrie, who chairs the Treasury Committee, said: "We had it confirmed that the Co-op Group board was the driving force behind the Verde negotiations, not the Co-op Bank.
"The two deputy-chairmen of the Co-op Bank, appointed to guide a chairman with little knowledge of finance, resigned because of their opposition to Verde. Instead of ignoring their advice, alarm bells should have sounded on the main Co-op Group board.
"It will be important to find out why this advice was ignored and whether or not the Co-op's form of governance had anything to do with it."
Related Internet Links
The BBC is not responsible for the content of external sites.