The 2013 economy: How was it for you?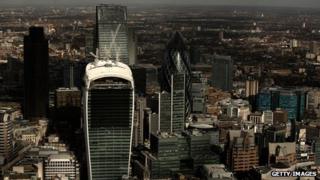 The UK's business leaders say the country is still some way from making a full economic recovery, despite GDP growth reaching its fastest rate in 2013 for five years.
Wage inflation, regional disparity, a lack of business investment, weak exports, and a shortage in workers' skills need to be fixed before the nation can celebrate a full recovery, they said.
However, they did all say the recovery was welcome.
Bolton ladder and scales supplier, Wardworth
I am seeing a lot of growth in London and the South East, and some shoots in the north of England - but nothing like the projects going on in the south.
Business is getting busier, we are seeing some growth. We have new projects in the North East, and there are different types of investment into these projects, with quite a lot from the government. We are selling more ladders and equipment, which is good, and we have taken on more apprentices.
But wages are not going up as fast as I would like. I want to see some more growth before I commit to increasing my staff's wages.
Gail Hounslea, managing director
Birmingham metal pressing firm, AE Harris
We saw more activity in 2013. Last year, we saw an increase in turnover of approximately 10%. I have not seen that since the early 1990s. Seven years ago, we had 175 employees. In the peak of the recession, we had 25. Now the number is up to 50.
We are seeing a certain amount of work, lost to China eight to 10 years ago, come back because of inconsistency in Chinese quality. People want British quality.
There is a recovery, there is a little bit more activity in the marketplace but an awful lot of companies have disappeared and therefore there is less skill and manufacturing expertise available. It is good for us, because it means less competition.
I have been in this industry for 59 years. There is an increase, but not as much as some of the politicians are trying to make out.
Russell Luckock, chairman
New home builder, Crest Nicholson
It was a surprise to see GDP falling in construction, from a house building perspective. I can not think of a time when we have been more flat out. I can only think it might be to do with the weather.
Crest have got 60 apprentices - they make up 10% of the workforce, which grew by 10% last year. In 2007, we did not have any apprentices. The government's Help to Buy scheme has given people confidence. It accounted for 600 new buyers, out of 2,182 completions, in 2013.
Stephen Stone, chief executive
The TUC
Any return to growth is welcome, but this is the wrong kind of recovery and is two years late. The recovery is yet to reach whole swathes of the country, or feed into people's pay packets. This must change if the benefits of recovery are to be felt by both businesses and workers.
Unless the short-term boost provided by house prices and consumer debt is transformed into investment, rebalancing and higher living standards, the danger is that it will prove unsustainable.
Frances O'Grady, general secretary
The economist, World First, UK
The economy seems to have entered 2014 with a fair bit of momentum behind it. The key thing will be sustaining this growth. Unless growth in services, manufacturing and construction is sustained, and unless real wage increases get into consumer's pockets, this may be the highest we get for a while.
We will have to see wages outstrip inflation for growth to be sustainable. The Midlands needs continual manufacturing growth to really join the strong-growth crowd. If we get that, we can consider the growth across the whole UK.
Jeremy Cook, chief economist
Arbuthnot Banking Group
It is an old-fashioned consumer-led recovery as far as I am concerned. With the big increase in unemployment, wages and salaries are picking up and real personal disposable income is picking up, which should drive recovery as well as the increase in credit.
With that, business confidence will follow and then you will get the investment to go with that. I always thought it was very bizarre that the government thought you could have an investment-led recovery.
As for the exports, that is very disappointing. But when your main market, the eurozone, is very, very depressed, I am afraid this is a consequence of that.
Ruth Lea, economic adviser