Lloyds Banking Group cuts 1,080 jobs as part of revamp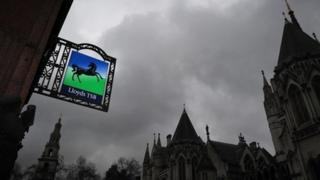 Lloyds Banking Group plans to axe 1,080 jobs and outsource more than 310 roles as part of a continuing overhaul of the business.
It said the cuts would fall within its retail, risk, operations and commercial banking divisions.
The bank said in 2011 it would cut 15,000 jobs. It said the latest cuts meant it had now cut 11,760 jobs.
It said it was working through the changes in "a careful and sensitive way".
The bank, which is 32.7% owned by the taxpayer, said it would also create 90 new roles within retail, risk and commercial banking as part of the overhaul.
"The group's policy is always to use natural turnover and to redeploy people wherever possible," it added.
Lloyds said it had consulted the relevant unions, Accord, Unite and LTU before it made the announcement.
The Unite union said, despite that, workers at the taxpayer-supported bank would be "devastated".
"Unite will continue to oppose these job losses and has sought an urgent meeting with Lloyds to outline the union's concerns," said Unite national officer Rob MacGregor.