Pre-crisis mistakes still haunt RBS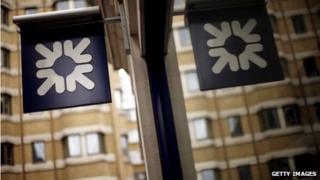 The poisoned legacy of Royal Bank of Scotland's recklessness and misconduct in the boom years is still wreaking havoc on the giant state-owned bank.
Today it disclosed:
£1.9bn of costs to cover fines and damage claims for mis-selling mortgage bonds in the US, along with other penalties for market manipulation;
Another £650m of losses for mis-selling payment protection insurance;
A further £500m of losses for compensating small businesses who were wrongly sold interest rate hedging products.
And it confirmed there will up to £4.5bn of further losses on bad loans and investments, together with unspecified losses on the accelerated sale of dodgy assets.
In total, this means that RBS is likely to incur losses for the full year of £8bn.
Which is not the biggest losses it has ever disclosed: in 2008 its losses were three times greater.
But so long after the great crash of five years ago, such a dreadful performance will shock many.
And what will be seen as troubling, this is not the end of the losses. RBS could yet face further big fines and damages claims stemming from alleged manipulation in the foreign exchange market; and it has not yet incurred all possible losses from rigging the LIBOR interest-rate benchmarks.
What are the consequences of all this financial pain?
Well the top eight RBS executives won't get a bonus this year - which will look to many like an outbreak of common sense.
And although RBS does not have to raise additional capital to absorb the losses, there must be a question about its ability to provide the loans needed by the British economy, given its ambition of significantly increasing its ratio of loans to loss-absorbing capital by the end of 2015 - because the simplest way of boosting the ratio is to lend less.
As for when and whether taxpayers will get back the £46bn we invested in the bank to save it in 2008, with the shares languishing a third below the price we paid, that looks more and more challenging.
For what it's worth, a number of investors and politicians have recently said to me they think it is a wholly naive hope that we will ever get all our money back.
UPDATE 1730
On the RBS conference call, RBS's chairman Sir Philip Hampton confirmed that shareholders will be asked to approve 200% bonuses. It is perhaps not the most tactful day to disclose this.
UPDATE 1745
RBS insists that Sir Philip Hampton confirmed simply that the bank is consulting its shareholders - including the Treasury - on whether to pay 200% bonuses.
That is not what the colleague of mine who listened to Sir Philip took away from Sir Philip's words.
Either way, it is not perhaps the best day for RBS to be mulling this over in public.