Argentina imposes $2,000 limit on purchase of US dollars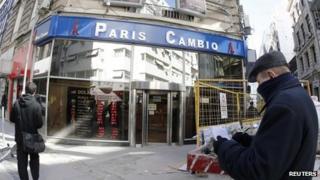 Argentina said citizens can buy up to $2,000 (£1,210) per month if their monthly salary is over 7,200 pesos ($900), after a two-year ban on buying dollars.
But large businesses and investors will not be able to make the purchases.
Last week, Argentina said it would ease restrictions after the peso fell 11%, its sharpest daily fall in 12 years.
US dollars could previously only be bought by citizens on the black market, which fuels the country's inflation.
Cabinet chief Jorge Capitanich said only "working professionals, workers and small business owners" would be able to buy the dollars.
However, Argentines earning over the 7,200 pesos minimum are still limited to changing only 20% of their salary into dollars, up to the maximum of $ 2,000 a month.
Argentines are reportedly reticent about buying US dollars until details emerge about reclaiming a 20% tax rate on the money - which applies if the dollars are stored in the house.
The tax does not apply if citizens store the dollars in a bank account.
Brian Coulton, global emerging markets strategist at Legal and General Investment management, said the government also intervened to devalue the peso, to eight pesos to the dollar, rather than seven.
He said Argentina had also raised interest rates to 6%.
'Not freedom'
Rates of inflation in Argentina are some of the highest in the world, as the peso trades at 40% less than its price on the black market.
The black market is seen as a measure of what people in the country actually think the peso is worth - and a truer indicator of inflation - than the official exchange rate.
The Argentinean government is hoping the controls will bring the official and black market rates for the peso in line.
Mr Coulton said the measures, alongside the devaluation and tightening fiscal and monetary policy, and rising interest rates, should help reduce the country's deficit.
But he added: "Argentina needs tighter monetary and fiscal policy to reduce selling pressures on the peso.
"At present the peso money supply is growing too fast creating inflation and excess demand for dollars at the official exchange rate."
Rodolfo Rossi, an economist in Buenos Aires, said: "This is a relief but it is not freedom. In practice, it gives just a little escape. The pressure on the (black-market peso) is going to continue."
In 2002, millions of Argentines saw their incomes and living standards collapse amid a crisis that included a government default on international debts and 41% inflation.