Davos 2014: Europe's banks 'in better shape' but 'risks remain'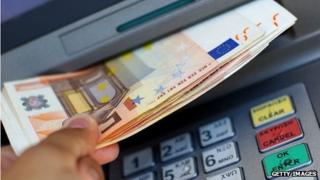 Finance ministers and banking leaders have said that Europe's banking sector is "improving" but that risks remain.
Lord Adair Turner, former head of the UK's Financial Services Authority, said that loans to businesses and in the mortgage sector were still at "very low" levels.
It was a mistake to assume that "lending would be magically unleashed," he warned.
He was speaking at the World Economic Forum in Davos.
Lord Turner also said that rules governing Europe's banks could need strengthening.
His comments were echoed in part by fellow panellist Anshu Jain, co-chief executive at Germany's largest lender Deutsche Bank.
Mr Jain said Europe's banks were in "better shape" but they were not where they "should be".
"Inter-bank lending is not back to normal or where it should be," he said. "Banks are not in a position to create capital."
He added that the US looks like it is "one step ahead again".
Lord Turner argued that the medium term view on Europe's banking sector was very important, adding that the US model should be regarded as a possible template.
'Tough enough?'
"For the eurozone to work, it has to go to a deeper level - towards federalisation. We have to go further.
"We have to think of how a single banking market works in America," Lord Turner said.
But, in response, Wolfgang Schaeuble, Germany's finance minister, said: "We are not the US. We are the European Union. We have to solve our banking problems by fiscal discipline and banking reforms."
On the issue of banking stress tests - designed to assess the financial health of firms in the sector - Olli Rehn, European commissioner for economic and monetary affairs, said that there was still a perception "that they weren't tough enough".
Jeroen Dijsselbloem president of the Eurogroup of finance ministers, added that he even hoped that this year's tests might reveal some weaknesses.
"I rather hope it's going to unveil some unpleasantness, because that will give us confidence that things are being done properly," he said.
At the end of last year, EU leaders gave their backing to a common set of rules for managing the closure of failing eurozone banks.
A 55bn-euro ($75bn; £46bn) fund will be set up, financed by the banking industry over 10 years. The deal was aimed at building an EU banking union that should minimise the need for taxpayer-funded bailouts.
Mr Schaeuble said he would have liked the fund to be "larger".
Mr Rehn said that the plan may be altered. "It certainly may still be improved and that's something that in the next two months in discussion with the European Parliament we will need to look at it," he said.