Davos 2014: My second Davos - what I learned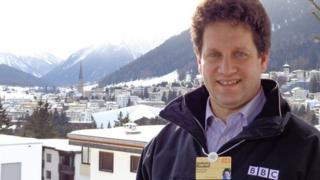 Despite the problems of becoming a social outcast, which I described at last year's World Economic Forum, I have been lucky enough to get the chance to attend the conference again.
As I am now no longer a wet-behind-the ears Davos debutante, I thought I should update you on what I have now learned.
Pick your airport carefully
I was booked onto an 07:30 flight from London City Airport on Tuesday morning.
That flight was cancelled due to fog, as was the 13:45 flight that I was bumped onto.
At that point I was booked onto a flight from Heathrow instead and put in a taxi to that airport.
Only about five minutes away from City Airport, the fog cleared, and it was a beautiful, sunny day.
There had clearly been a single cloud sitting on the airport. It eventually took me 17 hours to get from my home in north London to my hotel in Davos.
Book early
Accommodation in Davos this week is eye-wateringly expensive. Consider how much you would usually spend on a hotel and triple it and you'll be in the right sort of area.
Nonetheless, if you are going to the forum, you need to take a deep breath and make a booking.
On the way up the mountain, I was chatting with a reporter from a US newspaper who had left it late to book.
As a result, he was going to spend five nights sharing bunk beds with a colleague in Davos's snowboarder hostel. And it was still costing his paper a fortune.
Apparently it has an excellent bar though - gnarly!
Expect traffic
At times this week, Davos has been gridlocked - this Swiss ski resort just can't cope with the sheer weight of traffic the forum brings.
World leaders and chief executives tend not to walk or take the bus.
The traffic going to the new super-posh Intercontinental at the top of the hill has apparently been particularly bad.
Obviously, as an online reporter carrying a laptop, notebook and camera, I can walk, but my television colleagues who need much more kit with them have to drive.
On the plus side, the excellent Davos shuttle buses have televisions on the dashboard, which are automatically switched off when the vehicle is moving.
It means that in a decent-sized traffic jam you can watch a fair bit of coverage of the Australian Open tennis.
Take care on the stairs
I happened to be walking up the big staircase in the middle of the congress centre on Wednesday, when who should appear but Iranian President Hassan Rouhani and his delegation and security guards.
They were storming down the stairs like something out of a West Wing corridor, and I was shoved out of the way by a guard.
I saw other people getting caught up in oncoming delegations on the stairs during the week.
A more creative person than I could use this to make metaphors about global politics.
I should also say that aside from problems on the stairs, the security in the congress centre has been on something of a charm offensive.
I have been encouraged to have a nice day more times than I can remember.
Badge colour still matters
For those who read my rant last year about how working journalists are the social outcasts of Davos, I must confess that I am still wearing the orange badge of shame.
I'm not really complaining, because I am in one of the world's poshest ski resorts with an overwhelming number of fascinating people.
I met Bank of England governor Mark Carney and Hollywood star Matt Damon!
Nonetheless, my badge means I have to use a different entrance to the conference centre from the blessed white badge-holders and I can only attend a small proportion of the sessions.
On the other hand, this year I managed to get invited to a dinner hosted by investment guru George Soros, which I thought would be white badges only for sure.
Also, it turns out that for many delegates, the programme is an irrelevance - they spend the week having pre-arranged meetings with other delegates, because this is such a great opportunity to find so many of your customers, clients or rivals all in one place.
I met the head of an NGO on Thursday who confessed that she had only attended one session, and that had been because she was chairing it!
Perhaps I can claim to be one of those delegates - I have met people and heard stories that will help me enormously in the coming year.