Electric car attempts London-to-Edinburgh in a day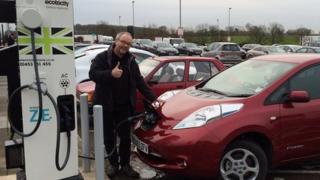 Actor Robert Llewellyn is driving an electric car from London to Edinburgh to try to prove the journey is now possible inside a day.
He and co-driver David Peilow aim to cover the 400 miles (650km) or so to Edinburgh Castle by 1930 GMT today.
They set off in a Nissan Leaf from Marble Arch at 0630, and will use public charge points en route.
Just three years ago, when I attempted the same journey in an electric Mini, it took four days.
But, as predicted then, the technology has moved on significantly.
"I think the fact that it is now even theoretically possible is a big step. As we know, only three years ago it was incredibly hard unless you had a £100,000 car," said Mr Llewellyn.
He and Mr Peilow will be able to take advantage of rapid chargers, which top up the battery to 80% of its capacity in 30 minutes.
When I stopped at charge points three years ago, the process took up to six hours.
But now the turnaround is much faster.
"David has allotted 35 minutes for each stop, giving us time to find the charger, plug in, take pictures, have a pee and eat my pre-prepared sandwiches," Mr Llewellyn told the BBC.
'Cosy' cabin
There are still only around 150 of these rapid charge points around the country, so the journey to Edinburgh is still a significant challenge.
But using the Leaf's satellite navigation system will make finding them far easier.
It should guide the two men to the exact location.
Back in 2011, I spent valuable electric charge driving round car parks to find charge points that had not been marked on any maps.
And the old phenomenon of "range anxiety" is already a thing of the past.
The Leaf reminds its driver exactly how many miles remain before a recharge is necessary.
And whereas I was obliged to turn off the heating in the car to conserve energy, wrapping myself in gloves and a trapper hat, these two will be travelling in a perfectly cosy cabin.
"We can do it without range anxiety as no single stretch is anything near the car's winter range. And we can do it in the warm," said Mr Llewellyn.
Arrival?
According to his reports en route, Mr Llewellyn said the car was achieving an average speed of 68mph (109km/h) - much more and they would be breaking the speed limit.
But it is not only the practical elements of electric motoring that are getting better, it is also the economics.
Electric cars already offer a free tax disc, free parking in many places, free access to the London congestion charge zone, and minimal fees for recharging.
But the biggest hurdle to mass ownership has always been the upfront cost of the car itself, and this has come down dramatically.
By renting the battery separately, Renault has pioneered lower costs. After taking off the government subsidy, the electric Zoe is available for around £14,000.
Even the Leaf, which cost £26,000 three years ago, is now on sale for £16,000.
But will Mr Llewellyn's journey to Edinburgh Castle in a single day signify that electric cars themselves have arrived?
As ever, the answer will probably be "not yet".