Davos 2014: Osborne says criticism of Bank of England unfair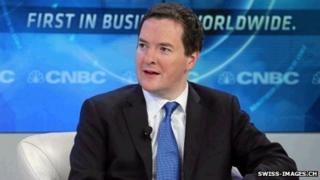 Criticism of the Bank of England's (BoE) forward guidance on interest rates has been unfair, Chancellor George Osborne has said.
"I completely reject that forward guidance is a failure," he told a panel on monetary policy in Davos.
He added that the Bank's clear communication had helped create "a very strong set of data in the UK".
BoE governor Mark Carney had said an interest rate rise would not be on the agenda until unemployment fell to 7%.
But figures on Wednesday showed again that the unemployment rate had fallen much faster than the Bank expected.
Chancellor Osborne stressed that the unemployment rate was still only at 7.1%, and quoted Mr Carney's comment from a BBC Newsnight interview on Thursday that there was no need for an immediate rise in interest rates.
The Bank of England had not been expecting the jobless rate to hit 7% for another two years.
In a separate speech, made in Davos on Friday, Mr Carney said that the UK's unemployment rate had fallen "faster" than the Bank had anticipated when it first set 7% as a trigger for a possible review of interest rates.
Falling faster
However, he said that this would not lead to a hurried rate rise, and re-affirmed that the 7% unemployment marker "is merely the point at which the MPC begins to even think about adjusting policy".
He added that any review of forward guidance would come in February's Bank of England inflation report, and that "The MPC will consider a range of options to update our guidance". He did not suggest that forward guidance was to be abandoned.
But Mr Osborne said in his speech that the debate over forward guidance was only taking place because there was a recovery underway, highlighting the differences with the "gloomy debate" about the economy at Davos last year.
He added that the growth in the economy was evidence that monetary policy had worked and that he had expanded the range of tools available to the Bank of England.
On the sidelines after the discussion, a delegate describing himself as a market participant leapt to the defence of Mr Osborne and Mr Carney, saying it was perfectly clear that the 7% had been a threshold and not a trigger for the raising of interest rates.
Mr Carney, in his Friday speech, said that the UK's economic recovery "has some way to run before it would be appropriate to consider moving away from the emergency settling of monetary policy".
Criticisms
"It is widely recognised that our 7% threshold is not a trigger for raising the bank rate. Last August, the MPC said that when the 7% unemployment threshold was reached, there should be no assumption of an immediate, automatic change to its policy stance," he said.
However, others have said that Mr Carney's comments this week have shown that the forward guidance policy failed.
Economists at JP Morgan Chase said: "The guidance framework has not just failed to offer the clarity the monetary policy committee was seeking, but has, in our view, created unnecessary confusion and volatility in rate expectations."
Schroders' European Economist, Azad Zangana, was also critical of the policy. However he defended the Bank's mis-forecast on the unemployment rate.
"Most economists, including ourselves, came to similar conclusions (on unemployment) last year," he said.
But he added: "We are critical of the use of forward guidance in the first place and the way that it relies on a single indicator to provide households, businesses and financial markets with a signal on the path of interest rates."