Royal Mail 'confident' after revenues rise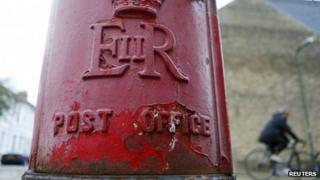 Royal Mail has said it is "confident" about hitting its targets after posting a 2% rise in like-for-like revenues in the nine months to 29 December.
Parcel deliveries accounted for 51% of revenues, and chief executive Moya Greene said the firm handled 115 million parcels in December.
Ms Green added that the firm's financial performance to date was in line with expectations.
The postal service was privatised in October 2013.
Shares in Royal Mail closed down 2.6% at 572.5p, against a flotation price in October of 330p-a-share.
Ms Greene said the number of parcels in December was "significantly more than any other carrier in the UK parcel market".
She said the company's European parcels business was doing well after exploiting "growth opportunities in the eurozone".
Letter revenue fell by 3% on a like-for-like basis, the company said, as the impact of London 2012 collectable stamp sales waned.
Richard Hunter, head of equities at Hargreaves Lansdown Stockbrokers, said the update was "perfectly acceptable".
He said: "More broadly, the profitable parcels business remains one which is vulnerable to new competition, whilst the estimated dividend yield of just under 3% is not the attraction it was at the time of the float, nor does it compare favourably with certain of its European peers."
Mr Hunter said Royal Mail's shares had had a "very strong run" since October but that it may struggle to make "further meaningful progress" in the shorter term.
The company was "simply a hold" for investors, he said.