Samsung Electronics quarterly profit declines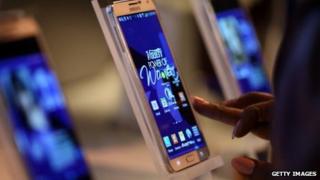 Samsung Electronics, the world's biggest maker of mobile phones and TVs, has reported a drop in quarterly profit for the first time in two years.
Net profit was 7.3tn won ($6.8bn; £4bn) in the October-to-December period, down 11% from the previous three months.
Samsung's earnings were hurt by a drop in margins in its mobile phone division, which saw operating income fall 18% quarter-on-quarter.
A special bonus payment and currency fluctuations also hurt its earnings.
The company paid a special bonus totalling 800bn won to employees during the quarter to celebrate the 20th anniversary of Chairman Lee Kun Hee's management strategy, which is widely credited to have spurred its growth.
Meanwhile, it said that fluctuation in the South Korean currency dented its earnings by 700bn won.
The firm warned that it would be "challenging" for it to improve its earnings in the current quarter as weak seasonal demand "will put pressure on demand for components and TV products".
Growing competition
The success of its smartphone division has been one of the biggest drivers of Samsung's growth in recent years.
It helped the company displace Nokia as the world's biggest phone maker in 2012.
However, the South Korean firm is facing increased competition in the sector as other manufacturers have launched new models.
One of Samsung's biggest rivals, Apple, launched two new models of its iPhone - the top-end 5S and a cheaper 5C - in September last year.
Nokia - whose phone division has been bought by Microsoft - also unveiled two new phone models in September, while Taiwanese firm HTC launched its latest handset, the Android-powered One Max, in October.
Analysts said the launch of the models had affected Samsung's performance during the October-to-December quarter.
In its earnings release, Samsung warned that it expected competition in the sector to "intensify" this year. It added that as firms looked to grab a bigger share of the market, they could cut prices of their products.
Any such move would likely impact profitability in the sector.
Record year
Despite a decline in profits in the last quarter - Samsung posted record annual earnings.
The firm made a net profit of 30.5 trillion won ($28bn; £17bn) in 2013 - a 28% jump from a year ago.
It said its performance during the year was boosted by the success of its smartphones and tablets, as well as robust demand for TVs.
The firm said it maintained its market leadership in mobile devices, with a 30% share of the smartphone market in both developed and emerging markets.
The firm said that it would offer new products in the smartphone and tablets sectors, as well as expand into areas such as wearable technology which would help it sustain its profit growth in the coming quarters.
"Looking at the quarterly earnings trend, we expect 2014 to follow last year's pattern of a weak first half and a strong second half as usual," Robert Yi, the firm's head of investor relations, said in a statement.