Standard Bank fined over lax anti-money laundering controls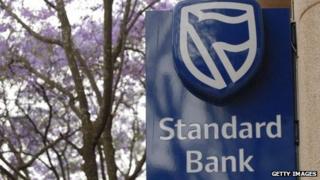 The UK arm of South Africa's Standard Bank has been fined £7.6m by the Financial Conduct Authority for "serious weaknesses" in its anti-money laundering controls.
The FCA said the bank had breached rules regarding corporate customers connected to people in high profile public positions.
This is the first such FCA fine over commercial banking activity.
Standard Bank operates in 18 African countries, as well as 13 other nations.
Tracey McDermott, head of the FCA's enforcement and financial crime division, said: "One of the FCA's objectives is to protect and enhance the integrity of the UK financial system. Banks are in the front line in the fight against money laundering.
"If they accept business from high risk customers they must have effective systems, controls and practices in place to manage that risk. Standard Bank clearly failed in this respect."
Higher risk
The FCA said that the failure to comply with anti-money laundering regulations took place between 15 December 2007 and 20 July 2011.
It investigated 48 corporate customer files from this period. The FCA said all had connections with one or more "politically exposed persons" and the review highlighted "serious weaknesses" in the application of anti-money laundering procedures.
The FCA said the failings were "particularly serious" because Standard Bank dealt with corporate customers from countries that have been identified as "posing a higher risk" of money laundering.
"The weaknesses in Standard Bank's anti-money laundering systems and controls resulted in an unacceptable risk of Standard Bank being used to launder the proceeds of crime", the FCA said.
The FCA added that Standard Bank and its senior management had co-operated with the investigation and have taken "significant steps at significant cost towards remediating the issues identified, including seeking advice and assistance from external consultants".
Standard Bank settled the matter with the FCA at an early stage of the investigation, and so was given a 30% discount on the fine which would have been £10.9m.