Davos 2014: 'Time Management 2.0'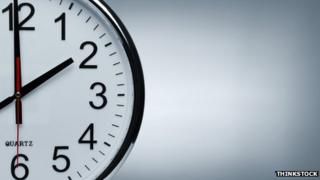 "I'm so busy!" It's a familiar refrain - and never more so than among chief executives and global leaders (not that we are usually party to such information, but that's the access afforded by Davos for you).
In a session run by behavioural economists it soon became clear that time management is an obsession.
The buzzword was "bandwidth" - as in "how much mental bandwidth do we have?"
I'm translating that to "headspace" - as in "I just don't have enough headspace for all this!"
The idea is that we understand that we need to rest our bodies and give them time to recover, but do we do the same with our minds?
No, was the clear implication.
Therapy
One chief executive made the comparison to lorry drivers - we accept that you can't make them drive all day without break - why not accept that in other parts of the business?
It shouldn't be a question of mental endurance, he said, and we must get rid of the macho notion of having to prove that we can keep going.
We were split into groups to discuss the problem and, of course, because we're thinking positively, find some solutions.
It felt a little like a therapy session.
'No!'
We discuss the constant pressure to answer emails, the amount of unproductive meetings we have and how to stay focused.
This is where the "Time Management 2.0" comes in.
It's about allowing yourself the headspace, sorry bandwidth, to make good decisions.
We are urged to "just say no" to unnecessary engagements.
One participant suggests allowing time before and after a meeting to prepare and process. She also points out that "it's not all about me", so she often delegates to her team.
After all, the clients want a representative from the company not just her.
Choices, choices
Another executive also talks about delegating all decisions that are not important to avoid cluttering your brain - for example, lunch.
He tells us the story of a chief executive who always lets his secretary decide his lunch - so he doesn't waste time thinking about that and can focus purely on the really big decisions.
Of course, that's a luxury that most of don't have. But it's in the same vein as President Obama's routine of only wearing blue or grey suits - to cut down on decision making time in the morning.
The point is to distinguish the important from the urgent, as one delegate puts it.
There's also a suggestion of scheduling "meetings with self" - actually putting half an hour in the diary where you allow yourself half an hour of mental peace.
Dreams
The behavioural economist in the room says the reason this is so important is because when we're stressed we make bad decisions.
We don't eat well, for example, we're much more likely to snack than eat or cancel going for a run, even though we've decided that's important.
But isn't all this just a bit obvious? Maybe, but the riposte is made that if we are more aware of how and when we make bad decisions we can come up with ways of managing them better.
So if we know we're going to be busy or stressed, we make sure we have apples in the fridge and not snacks - to avoid the temptation.
But my favourite piece of advice is towards the end when we're told daydreaming is good.
Phew. My bandwidth can cope with that.