Crossrail project 'on course' to be value for money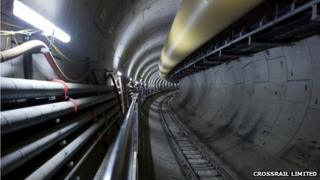 The half-completed £15bn Crossrail project is "on course" to be value for money, The National Audit Office (NAO) says.
However, there have been additional costs - including £1bn to buy trains - the NAO report into the project said.
The Department for Transport has not received as much private sector funding as it was hoping for, the NAO found.
The bill for the new rail service for London and the South East is being both publicly and privately funded..
Businesses are contributing to the costs through a supplement to London business rates.
Most of the £1bn train buying cost will be footed by TfL, with the DfT contributing £100m.
The line is due to run from Maidenhead and Heathrow Airport in the west, to Abbey Wood and Shenfield in the east.
Behind schedule
It had been expected that the project would include a £230m contribution from Heathrow Airport - as it was expected to "benefit" from the line.
However, the Civil Aviation Authority (CAA), said that there would not be a net benefit - and that the contribution should be just £70m.
NAO chief Amyas Morse said: "The sponsors and Crossrail Limited have so far done well to protect taxpayers' interests, by taking early action to stop costs escalating and, during construction, tightly managing the programme."
But a number of risks remain, the NAO said, "in particular the delivery of the Crossrail trains and the appointment of the operator".
"There is still a long way to go and the Department must continue to manage risks to protect its investment in Crossrail," said Mr Morse.