Nokia shares down as sales continue to fall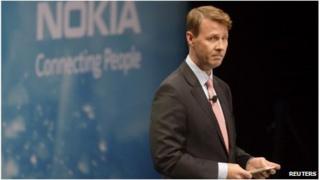 Nokia suffered a 22% fall in sales at its core NSN division in the final three months of last year.
With Nokia's mobile handset business due to be bought by Microsoft, the NSN network equipment arm will remain the Finnish company's primary division.
NSN's sales fell to 3.1bn euros (£2.5bn; $4.2bn) from 3.98bn. Nokia shares dropped more than 4%.
For the group as a whole, including the mobile arm, Nokia reported net profits of 41m euros for 2013.
In 2012 it made a loss of 1.48bn euros.
Annual net sales for the group were 12.7bn euros, down 17% year-on-year.
The NSN unit made a net profit of 15m euros, compared with a net loss of 1.4bn euros in 2012.
Nokia has been selling off unprofitable businesses and cutting costs in an attempt to stem losses in its mobile phone business, which has lost out to rival smartphone makers such as Apple and Samsung.
The handset and services division saw net sales of 2.6bn euros in the fourth quarter of last year, down 29% from the same quarter the year before.
Nokia is receiving 5.4bn euros from Microsoft for its devices and services business. While shareholders have agreed the deal, regulators have yet to give it the go-ahead.
Stephen Elop, the former president and chief executive of Nokia Corporation, stepped down and resigned from the company's board under the terms of the deal, receiving a controversial 18.8m euro pay-out.
He is due to move over to Microsoft when the sale is completed and is tipped by some as a likely replacement for Microsoft's outgoing chief executive Steve Ballmer.
Mr Ballmer is expected to leave the company in 2014.