Eurozone recovery strengthened in January, survey says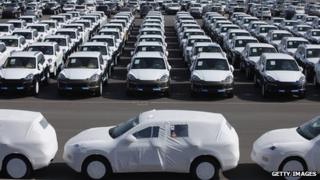 The recovery among eurozone private sector firms gathered pace in January, a survey has indicated, with growth at its fastest pace since June 2011.
The latest Markit Purchasing Managers' Index (PMI) for the eurozone economy rose to 53.2 from 52.1 in December. A figure above 50 indicates expansion.
Growth accelerated in Germany while the rate of decline slowed in France.
Separate figures from the Bank of Spain showed the country's economy grew by 0.3% in the last three months of 2013.
It was the second quarter of growth in a row for Spain, although the economy shrank by 1.2% over the year as a whole.
Figures from Spain's National Statistics Institute showed that the country's unemployment rate edged up slightly to 26.03% in the fourth quarter of this year from 25.98% in the previous quarter.