Carpet chains change price practices after OFT probe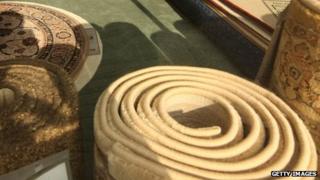 Two carpet chains have agreed to change their pricing practices, following an investigation by the Office of Fair Trading (OFT).
United Carpets used promotions using the phrases "closing down sale" or "closing down for refurbishment" without giving a proper explanation.
A website called Floors2go advertised prices without VAT, and made incorrect claims about savings on offer.
The OFT is continuing a separate enquiry into five other carpet chains.
United Carpets, which has 66 stores in England, was also told that claims about Recommended Retail Prices (RRPs) must be genuine.
In other words, they should be prices which are normally charged throughout the year.
Floors2go, which is owned by a company called Nixon and Hope, was found to be advertising carpets per square metre, but without the VAT included.
As a result the OFT said the displayed prices were "potentially misleading to consumers, as they could not in fact buy the product at the price shown."
The savings being claimed were also wrong.
"When retailers advertise misleading prices or promotions, consumers often make different purchases - or spend more money - than they otherwise might have done," said Gaucho Rasmussen, director of the OFT's goods and consumer group.
Investigations
Both companies have now agreed to change their pricing, although Floors2go will not complete the changes until February.
United Carpets said it had phased out the use of RRPs by the end of 2013.
It also said it would be happy to provide more information if a store closing sale was being advertised.
The OFT is continuing to investigate five other carpet chains, including Carpetright and ScS, over potentially misleading prices.
In those cases the issue is reference pricing, where stores claim that an item "Was £800. Now £499."
The investigation into DFS, which was part of that inquiry, has now been closed.