Lenovo buys IBM's low-end server business for $2.3bn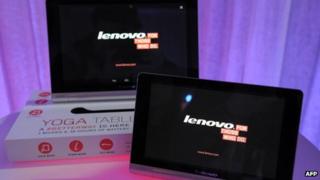 China's Lenovo - the world's biggest PC maker - has agreed to buy IBM's low-end server business for $2.3bn (£1.4bn) in a widely anticipated deal.
About $2bn will be paid in cash with the rest in Lenovo stock, it said.
Whlie IBM is selling its x86 "low-end" server business, which includes the System x, BladeCenter and Flex System products, it is retaining its powerful mainframe and storage business.
Lenovo bought IBM's PC business in 2005, featuring the ThinkPad range.
It has since diversified into smartphones and tablets, and overtook Hewlett-Packard as the world's top PC maker in 2012.
"This acquisition demonstrates our willingness to invest in businesses that can help fuel profitable growth and extend our PC Plus strategy," said Yang Yuanqing, Lenovo's chairman and chief executive.
IBM recently announced that it would invest more than $1bn in a new division based around its Watson supercomputer, and $1.2bn expanding its global cloud computing business.
"This divestiture allows IBM to focus on system and software innovations that bring new kinds of value to strategic areas of our business, such as cognitive computing, big data and cloud," said Steve Mills, senior vice president and group executive of IBM Software and Systems division.
The deal increases the level of collaboration between the two computing giants; IBM will continue to develop software for x86 servers.
About 7,500 IBM staff will be given the option of transferring to Lenovo.