'Big Four' accountants' China units face US suspension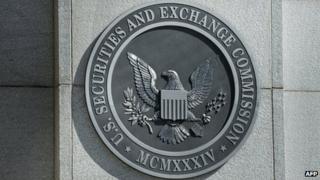 A US judge has ruled that Chinese units of the so-called Big Four accounting firms should be suspended from auditing firms publicly traded in the US.
They had been charged over refusing to hand over auditing data on China-based companies which are listed in the US.
The judge ruled that the units had "willfully violated" US laws.
The ruling does not go into effect immediately. The four firms called the decision "regrettable" and said they will appeal.
"In the meantime the firms can and will continue to serve all their clients without interruption," the companies - Deloitte Touche, PricewaterhouseCoopers, KPMG and Ernst & Young - said in a joint statement.
A fifth firm, Dahua, was also censured by the judge but not suspended.
'Hell of a pickle'
While the firms are appealing, it could have huge consequences if it the initial decision ultimately stands.
It could complicate audits of various Chinese firms listed in the US, as well as American firms operating in China.
"This decision will be a huge shock in Beijing," said Paul Gillis, an accounting professor at Peking University in Beijing.
"The Securities and Exchange Commission has pushed a lot of chips out on the table."
He added that if the big accounting firms were unable to sign audits it would leave companies in "a hell of a pickle" as the relatively smaller accounting firms may not have the capacity to serve big clients.
However, some others said the legal proceedings could take a while, which would allow the four firms to continue to service their clients in the near term.
"I think the decision came totally unexpected to the firms," said Jason Flemmons, a senior managing director at FTI Consulting.
"That said, this will undoubtedly be appealed, which will significantly delay the institution of the six-month bars."
Ongoing dispute
Various Chinese firms have listed on US stock exchanges in recent years.
However, claims of fraud and questionable auditing standards at some of the companies have dented investor confidence.
These concerns have also prompted US regulators to demand access to auditing documents kept in China by accounting firms.
However, the audit firms have refused to release these records citing China's state law says that Chinese company records can be claimed as state secrets.
The US Securities and Exchange Commission (SEC) said it was gratified by the decision.
"These records are critical to our ability to investigate potential securities law violations and protect investors," said Matthew Solomon, the chief litigation counsel in the SEC's Enforcement Division.
Meanwhile, the two countries have been looking to resolve this issue as well.
In May last year, the two sides reached an agreement that allowed some some audit documents of US-listed Chinese firms to be shared.