Davos 2014: Is higher education a waste of money?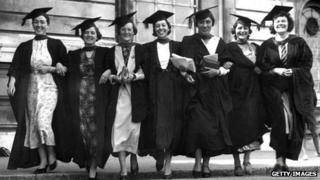 There's something endearing about the Open Forum.
It provides a crumb of comfort for those who feel that the annual get-together of the rich and powerful at Davos is a bit elitist and exclusive.
The organisers of the World Economic Forum arrange for a handful of sessions near the conference centre that anyone can attend.
The audiences tend to be younger and have a higher number of women attendees than those in the main conference, not to mention more casually dressed and Swiss members.
So, where better than a Davos school hall to discuss whether going to university is a waste of money?
The debate was opened by Sean Rush, chief executive of JA Worldwide, which provides entrepreneurship and vocational training.
He said that he'd funded his four children in the US through a total of six degrees, at a total cost of $1.2m (£724,000). He also mentioned that he'd funded himself to get his third masters degree in his fifties and that he thought it had been worth the money (although he joked that he'd had to get rid of the dog to do it).
Pay and security
Also on the panel was Zach Sims, the twenty-something co-founder of the online coding tutor Codecademy, who dropped out of Columbia University to found his business.
He said the key problem was that people were not being given relevant skills and were ending up leaving university in huge debt before going off and getting a poorly paid job that they could have done without a degree.
There was no doubt about the value of higher education in the mind of Angel Gurria, secretary-general of the Organisation for Economic Co-operation and Development (OECD).
"Absolutely it's worth it - go for it," he said.
He pointed out that people with college degrees have greater job security and get paid considerably more than those who do not.
But he was also convinced by the argument that introducing some online components into courses would be a good idea.
1,500 new universities
Daphne Koller, who is a professor of computer science at Stanford University and also co-founded the online education company Coursera, said combining online and face-to-face learning was the key to improving the quality of courses while also reducing the cost.
She pointed out that it could also be the answer to the education needs of developing countries. She said that India wants to increase its proportion of college graduates from 13% to 30%, but to do that in the traditional way would require the building of 1,500 new educational establishments, something that seems unlikely.
For the past two years, Coursera has been providing Moocs, which stands for Massive Open Online Courses.
The educational materials are free and students only have to pay if they want to take a qualification at the end of the course.
For Mr Sims, the biggest shift coming is getting rid of what he calls "the detritus" involved in college education such as sports teams.
He says there is a big shift away from just taking normal educational methods and putting them online, and instead allowing people to get bite-sized bits of knowledge when they need it.
'Changed my life'
But other panellists stressed the social benefits of the parts of college life that do not lead directly to work-related skills.
Gianpiero Petriglieri from Insead said that if he had had the opportunity in the first few weeks of his university course "to click and close that window" on some of his professors then he would have done so, because they really got on his nerves.
"But then they changed my life," he says.
On the other hand, he said that "any institution not preparing itself for some sort of blended model is dooming itself to extinction".
Angel Gurria concluded that despite debt and misdirected skills problems, it was still worth getting a college degree. In 2008, people with a degree in OECD countries earned on average 75% more than those without one, he said. Today that figure is about 90%.
"Not everyone can be a dropout like Bill Gates or Zach or [Mark] Zuckerberg," so do take that extra loan and get a degree, he advised.