EU court rebuffs UK legal challenge to short-selling law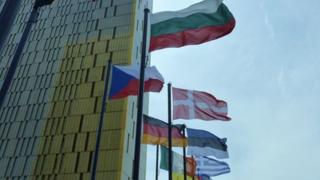 The UK government's attempt to limit the extent of European Union power to ban certain financial practices has failed in the courts.
In 2012, the EU passed a law giving it the power to ban short-selling - betting on whether shares or other securities will fall in price - in emergency situations.
The UK challenged the law as a restraint of trade on the City, but the EU's highest court rejected the case.
Britain will not be able to opt out.
EU authorities believe short-selling contributed to financial instability during the region's debt crisis by increasing the volatility of stocks.
Under the new law, the European Securities and Markets Authority (ESMA) can ban short-selling if it thinks the practice threatens the stability of the EU financial system.
Britain has argued that such measures interfere with the efficiency of the financial markets.
The Luxembourg-based Court of Justice said the EU's new powers were "compatible with EU law" and dismissed the UK's legal case "in its entirety".
Short selling involves the sale of borrowed shares and other financial instruments in the hope that they can be bought back later at a lower price.
The Treasury said it was "disappointed" by the ruling,
"We've consistently said we want tough financial regulation that works, but any powers conferred on EU agencies must be consistent with the EU treaties and ensure legal certainty," a spokesman said.
Prime Minister David Cameron has come under pressure from some in his Conservative party to renegotiate Britain's relationship with the EU, and reassert national sovereignty.
Britain is also challenging EU rules capping bankers' bonuses and its plans to impose a financial transaction tax.