China and UK trade at 'record high'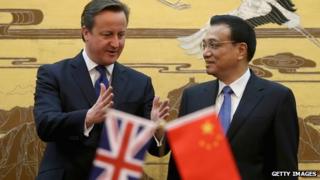 Bilateral trade between China and the United Kingdom hit a "record high" in 2013, according to the Chinese ambassador to the UK, Liu Xiaoming.
The state-owned Xinhua news agency quoted Mr Liu as saying that bi-lateral trade between the two surpassed $70bn (£43bn) last year.
He said the UK's exports to China grew more than other EU countries.
The UK has been pushing to boost trade ties with Beijing in an attempt to tap into China's domestic market.
Last year, British Prime Minister David Cameron visited the world's second-largest economy to foster closer trade ties.
He was accompanied by more than 100 British business people on the three-day visit - his second to the country.
"The two countries' leaders reached a broad consensus on pushing forward bilateral relationship and expanding co-operation," said Stephen Perry, chairman of the 48 Group Club, an independent business network that looks to promote ties between China and the UK.
"China and the UK working together will benefit our people and contribute to global peace and development," Mr Perry was quoted as saying by Xinhua.
Open economy
Meanwhile, Chinese firms have been keen to invest in the UK as they look to expand their global reach.
Among the Chinese companies that have announced plans to invest in the UK are Dalian Wanda Group, which has said it will spend £1bn to buy a British yacht maker and develop a hotel property in London.
Network equipment maker Huawei has said it will invest £1.3bn in expanding its UK operations.
The UK has welcomed Huawei's increased investment and expansion despite the firm facing security concerns in other economies such as the US and Australia.
Meanwhile, Beijing Construction Engineering Group (BCEG) will be part of a group investing £800m in Manchester Airport to develop its surrounding business.
Britain is among the top 10 nations globally for outbound Chinese investment and attracts more than double the investment of any other nation in Europe.
Mr Perry said: "The UK can be the most profitable destination in the Western world for Chinese outward investment in infrastructure, real estate, energy and transportation".