Bombardier to cut 1,700 aerospace jobs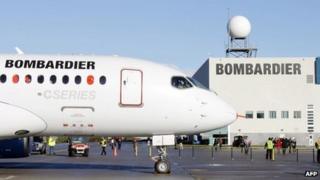 Canada's Bombardier has said it will cut 1,700 jobs in its aerospace division in an attempt to save money.
The job cuts will affect about 4% of the aerospace division's workforce and come amid delays in the development of two of its aircraft.
About 1,100 jobs will be lost in Canada and 600 in the US.
Bombardier also said orders for new aircraft in 2013 fell by 15% from a year earlier. Shares in the company fell more than 3% on the news.
'Managing costs'
A company spokesperson said there was no specific cost-savings targeted with the job cuts and that both permanent and contract employees would be affected.
"This is all to do with the goal of assuring our long-term success," Bombardier spokesperson Helen Dunne told the Reuters news agency.
"It's just part of the overall continued focus we're putting on managing our costs prudently so that we can support our investments," she added.
The Montreal-based company announced earlier this month that the launch of its C-series model aircraft was being pushed back to the second half of 2015.
The first C-Series jetliner was originally scheduled to be delivered to customers in September, but the firm said it needed more testing.
The aircraft is Bombardier's contender in the 100-200 seat narrow-body, or single-aisle, market dominated by Airbus's A320 and Boeing's 737.
The firm has also pushed back the delivery of its Learjet 85 business jets.
Analysts said the C-Series delay and the firm's cash worries were concerning investors, while ratings agency Fitch downgraded Bombardier last week.
"It's hard to believe that they'd be laying off this level of people without the financial necessity of doing it," said Richard Aboulafia, vice president of aviation consultancy Teal Group.
"In other words, this speaks to a real issue in terms of raising more money to complete the (C-Series) programme."