Pimco sees El-Erian resign as chief executive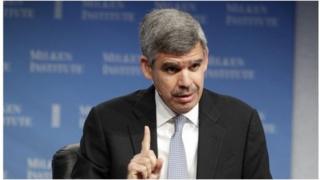 One of the investment world's best-known figures, Mohammed El-Erian, says he will resign as chief executive of the US-based bond giant Pimco.
Neither Mr El-Erian nor Pimco gave any reason for his departure, which is scheduled for March.
He will, however, stay on as a consultant at Pimco's parent company, German insurance giant Allianz.
Mr El-Erian, 55, is a well-known commentator on broadcast media and the conference circuit.
Two years ago, Bill Gross, the 69-year old co-founder of Pimco, named Mr El-Erian as the man he wanted to take over from him as head of the Pimco business.
Allianz said Douglas Hodge, currently the managing director and chief operating officer of the firm, would be its next chief executive, with other managing directors Andrew Balls and Daniel Ivascyn acting as his deputies.