Think tank urges government to enforce pension saving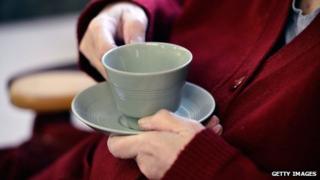 People in Britain must save more than six times the amount they are currently to avoid poverty in retirement, a think tank has said.
The Policy Exchange urged the government to make it compulsory for people to save, in a similar way to paying taxes for public services.
In a report, the think tank said 11 million people were at risk of poverty.
It suggested a new scheme, "Help to Save", to remove the opt-out in auto-enrolment.
The Policy Exchange said alongside removing the opt-out, the government should increase an individual's contributions to their pension as their income rises.
Right for everyone?
James Barty, author of the report, said the lack of people saving for their retirement was putting an "intolerable burden on the state" which "needs to be addressed sooner rather than later".
He said: "With an ageing population, putting money aside for later life should be seen in the same context as National Insurance contributions, taxes and even education - an obligation that falls on everyone in society.
"'Help to Save' will prevent the state from having to pick up the tab for people who haven't put aside enough money for later life."
A spokesperson for the Department for Work and Pensions said the 90% of people choosing to opt into auto-enrolment so far showed they "clearly" valued the chance to save.
He added: "Pension saving is not right for everyone, however, so they have the right to leave pension saving at any time. If they do leave, they will be enrolled again every three years so they can think again about whether it is right for them."