Lloyds accused of 'bad faith' in bank branch sell-off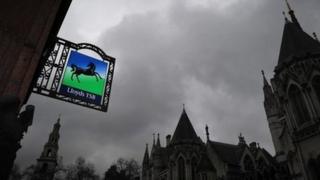 Lloyds Banking Group and the government have been accused of acting in "bad faith" in the way they handled the sell-off of 600 Lloyds bank branches.
Lord Levene, former chair of NBNK Investments - which bid to buy the branches - told the Treasury Committee that Lloyds was "swayed by political considerations".
Lloyds chose to sell the branches to the Co-operative Bank.
But the deal collapsed after a £1.5bn hole was found in the Co-op's finances.
Lloyds subsequently hived off the branches to its revived TSB brand, which is expected to float on the stock market next year.
Lord Levene said that "leading market players" believed at the time the Co-op bid for the branches would fail. He believed both Lloyds and the government had chosen to concentrate on "all the positive aspects of the Co-op and none of the positive aspects of our bid".
"I would say that Lloyds were swayed by political considerations. I would say that their assessment of our bid... was not done fairly," he added.
Lord Levene set up NBNK in order to create a new so-called challenger bank aimed at creating competition among the existing mainstream High Street banks.
"With the benefit of hindsight, there must have been a view that if the creation of a new challenger bank would be created by a mutual, this would be another tick in the box for the goals that had been set out," he told the committee.
'Not fair'
Lord Levene said it was a "matter of regret" that the aim to create a new retail bank after larger institutions had "lost their way" had failed.
In written evidence submitted to the committee, Lord Levene detailed a NBNK board meeting in January 2012 where concerns were raised that "it was not a fair race" and "that the Co-op was not in any shape at all to undertake the acquisition".
He said the minutes of the meeting also referred to NBNK's belief that the then financial watchdog, the Financial Services Authority, "should be concerned about the Co-op".
Lord Levene said he had later been told by then Bank of England's then governor, Sir Mervyn King, that the NBNK bid could not be accepted, and a month later in June 2012 the Co-op was announced as "preferred and exclusive bidder".