Home loans in 2013 half their 2007 peak, says CML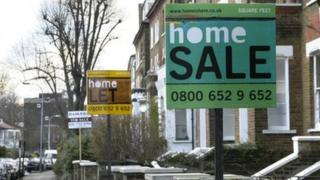 The amount of money borrowed by home-owners last year was less than half that seen at the peak of the housing boom in 2007, mortgage lenders say.
The Council of Mortgage Lenders (CML) said the total amount lent out last year was £177bn.
Although that represents a 23% rise on the figure for 2012, it is still a long way below the peak.
In 2007, Britain's banks and building societies lent out £363bn in the form of mortgages.
The figures suggest that the UK is a long way from another housing boom.
However, the amount lent out in December, £17bn, was nearly 50% more than in the same month last year.
"Mortgage lending was stronger than we expected in the closing months of 2013," said CML economist Bob Pannell.
"But lenders expect little if any boost to borrower demand this quarter," he said.
One limiting factor may be the fact that banks and building societies can no longer borrow cheap money under the Funding for Lending scheme to finance mortgages.
Some experts think that may put upward pressure on mortgage rates.
However the CML expects demand for mortgages to remain high in 2014, partly due to the government's Help to Buy scheme, and partly due to more people finding jobs.
"The rationale for the positive narrative is a much broader one, reflecting such factors as the improving economy and jobs market, consumer confidence and competitive mortgage deals," said Mr Pannell.