Carphone Warehouse awaits 4G boost as revenues rise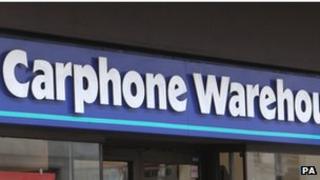 Mobile phone retailer Carphone Warehouse has reported a modest rise in revenue as many consumers hold off buying a new phone until 4G contracts are more widely available.
Revenue for the final quarter of 2013 was up 3.1% compared with a year ago.
UK revenue rose 5%, despite a sharper-than-expected contraction in the prepay market of between 25% to 30%.
The company said it expected strong demand for 4G phones and was on course to hit full-year targets.
"As anticipated, postpay volumes remain subdued while the market transitions to 4G," said chief executive Andrew Harrison.
But he added that Carphone Warehouse had increased its market share in the UK.
The sharp fall in the prepay market meant the total number of UK connections was down almost 13% from a year earlier.
The company's joint venture in France with Virgin Group, Virgin Mobile France, fared less well, with revenue down 15.6%, in part reflecting fewer customers.
While the company acknowledged "challenging market dynamics" across Europe, it said was "very encouraged" by the potential of 4G once networks had been expanded.