Probe into KPMG over Co-op handling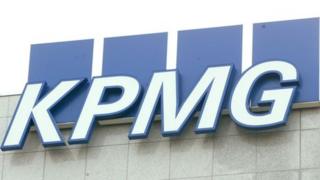 KPMG is being investigated over its handling of the troubled Co-operative bank's accounts.
The Financial Reporting Council (FRC) will look into the "preparation, approval and audit" of the Co-op bank's finances up to the end of 2012.
KPMG added that regulatory scrutiny is "understandable".
The accountancy group said it would co-operate fully.
The Co-op bank is struggling financially, and is also suffering from a scandal involving its former chairman Paul Flowers. Mr Flowers, a Methodist minister with little experience in banking, joined the Co-op board in 2009 as a non-executive director.
Co-op Bank was rescued last year under a deal with bondholders, after it emerged the bank faced a £1.5bn black hole.
Speaking about the investigation announced on Monday KPMG said: "As auditor to the bank we believe that we have provided, and continue to provide, robust audits which provide rigorous challenge to the judgements and disclosures proposed by the bank's management."
Accountants can be fined and suspended under the FRC's authority.
The investigation follows reviews into the bank by the Prudential Reguation Authority and the Financial Conduct Authority announced on 6 January.