China's new home sales in 2013 hit $1.1tn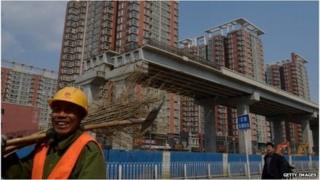 New home sales in China rose 27% to 6.8tn yuan ($1.1tn; £684m) in 2013 from a year earlier, official data showed on Monday, despite efforts to cool prices.
The government has been trying to cool down China's property market since 2005.
But the central government has not added to nationwide cooling measures since March 2013.
Official data released over the weekend showed prices of new homes in December climbing as much as 20% in some cities.
Prices of new homes in December rose 16% in Beijing from a year earlier, 18% in Shanghai, and 20% Shenzhen and Guangzhou, the National Bureau of Statistics said on January 18.
Rising demand
Premier Li Keqiang has not put in place any further nationwide cooling measures since his predecessor, Wen Jiabao, ordered higher down-payments for second-home purchases in some cities in March 2013.
Instead, Mr Li has left it to individual cities to tighten their own local property policies, leading some provincial capital cities to introduce tighter requirements for some home buyers.
But analysts say it is the big cities - or what China refers to as top-tier cities - that are the main contributors to the nation's rising property prices.
"There is more demand than supply in top-tier cities and that's what causing property prices to go up," said Shaun Rein, from China Market Research.
"Traffic is so bad in cities like Shanghai, and there aren't that many new apartments being built there, so if you want to be near a central business district, the price is going to be high.
"There is also very little speculation in the market," Mr Rein said.
"Most people are buying for themselves so they can improve the quality of their lives.
"Wealthy people want to buy multiple homes and they just can't. They can't even buy a third home and there are very high profit taxes if owners sell their home in less than five years."
Demand for residential real estate in second and third-tier cities was not the same as in top-tier cities and there was some concern that too much construction was taking place, Mr Rein said.
"Overall, there are concerns that prices are too high for everyday people in top-tier cities and that there's too much construction for demand in smaller cities. But the market is not going to explode," he added.