China economic growth rate stabilises at 7.7%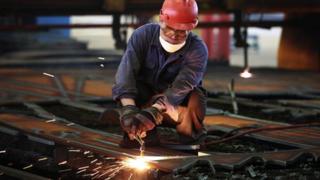 China's economy, the world's second-largest, has shown signs of stabilising, as 2013's growth rate matched that for 2012, official data suggests.
Gross domestic product (GDP) grew at an annual rate of 7.7% in the October-to-December period, down from 7.8% in the previous quarter.
But it was still higher than the government's target rate of 7.5%.
China is trying to maintain strong growth while rebalancing its economy.
China has said it wants to move away from an investment-led growth model to one driven by domestic consumption.
'Encouraging'
"It's very much within the range of what the government was aiming for," David Wilder, head of the Beijing bureau of Market News International, a financial information provider, told the BBC.
"The fact is that the Chinese economy mustn't and can't grow at the double digit rates we're used to seeing. And in some regards slower growth is actually encouraging because it suggests that it's moving to a more sustainable pace."
Li Huiyong, an economist with Shenyin & Wanguo Securities in Shanghai, said: "We maintain our 2014 GDP growth forecast of 7.5% as we still need to be on guard for the risks from debt problems in the economy."
But some observers are sceptical about the latest figures.
Euan Stirling, investment director of UK equities at Standard Life Investments, told the BBC: "There's a broad belief that the growth rate is below that of the 7.7% published this morning - it's probably nearer 4% or 5%."
Underlying economic activity levels, such as industrial production and power demand figures, suggest lower growth rates, he said.
Debt concerns
A government-led investment boom has been a main factor driving China's growth in recent years.
Chinese banks, especially the big four state-owned lenders, lent record sums of money in the years after the global financial crisis in an attempt to sustain the country's high growth rate.
However, there have been concerns that part of that money has gone towards unproductive investments and that banks may not be able to recover those loans.
If they cannot, it could have a significant impact on growth, some analysts believe.
Shadow banking
There are also concerns over the growth of shadow banking - lending by non-banking companies - in the country.
Critics have warned that shadow banking makes credit less transparent and poses a major risk to China's economic growth.
China is thought to be drafting rules calling for greater supervision and monitoring of the shadow banks.
Banks have been told to publish data on 12 key indicators, including off-balance-sheet assets, to enhance their transparency.
Shen Jianguang, chief China economist at Mizuho Securities in Hong Kong, said: "The government's moves to curb shadow banking and local government debt will cap the growth of investment."
Many analysts have said that curbing lending growth to address these concerns could would probably have a negative impact on China's economic growth.
Growth boost
Chinese policymakers have taken various steps to open up new avenues of growth.
These include the launch of a free trade zone in Shanghai.
This is seen as a test bed for reforms in key areas of the economy, such as the financial and telecom sectors which have been tightly-controlled until now.
Earlier this month, China said it will open up to to foreign firms some telecom services within the zone, including call centres and home internet access provision.
It said it will also allow foreign firms to make gaming consoles within the free trade zone and sell them across China - lifting a ban on gaming consoles that has been in place since 2000.
Other measures to be trialled inside the zone include market-driven interest rates.
China's banking regulator, China Banking Regulatory Commission, said earlier this month that "more policies will be issued to support banking reform in the Shanghai free trade zone".