Nintendo shares plunge 18% on loss warning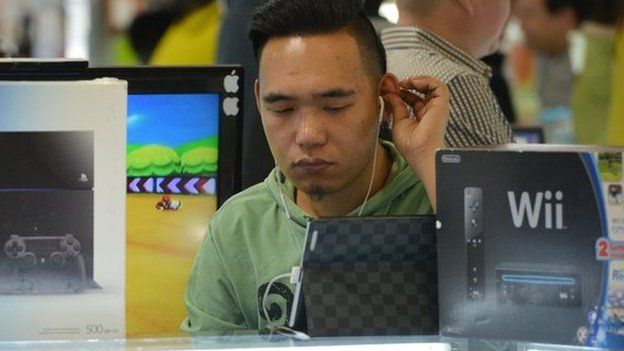 Shares of Japan's Nintendo plunged as much as 18% on Monday after the gaming giant issued a profits warning.
On Friday, Nintendo said it expects to make an operating loss of 35bn yen ($335m; £205m) for the financial year ending 31 March 2014.
It had initially forecast an operating profit of 100bn yen for the period.
The company blamed weaker-than-expected sales of its Wii U console during the holiday season for the downgrade in its earnings forecast.
As a result, it lowered its global Wii U sales forecast for the business year from nine million to 2.8 million units - a cut of nearly 70%.
Nintendo also reduced the sales forecast for its 3DS console from 18 million to 13.5 million units.
The firm's shares fell to as low as 11,935 yen on the Tokyo Stock Exchange on Monday.
The maker of Super Mario and Donkey Kong had previously hoped to match the global success of its original Wii game console which helped raise the firm's shares to a record high in 2007.
The company had, till three months ago, backed its initial forecasts for Wii U sales despite setbacks in markets such as the UK.
In July last year, UK supermarket chain Asda said it would no longer be selling the Wii U in its stores.
But the gaming giant has faced stiff competition from rival console makers including Microsoft with its new Xbox One, and Sony with its new PlayStation 4.
At the same time, some console makers are moving towards allowing users to play their games without the need to own a console.
Earlier this month, Sony announced plans to make its games available over a variety of devices, including its smart TVs as well as other third-party products.
Analysts said that given these factors, Nintendo - which has so far not allowed its games to be played on tablets or other mobile devices - needed to re-evaluate its strategy.
"Its console-based business model spells doom for stakeholders," analysts at Jefferies wrote in a note. "It has no choice but to accept the change."
"We believe Mario on mobile is coming."
Related Internet Links
The BBC is not responsible for the content of external sites.