China eyes innovation to spur growth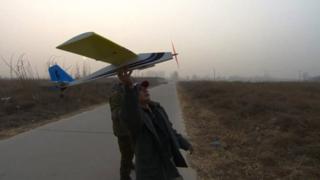 At 57 years old, Li Keren is at an age when most people start thinking about retirement.
But instead Mr Li has turned his hobby into a business and became an entrepreneur designing model aircraft.
You can sense his boyish enthusiasm as he runs through the final checks of a model plane on the outskirts of Beijing.
"I think the biggest difference that I have with others my age is that I still have a dream," he said. "I wake up every day feeling energetic and more driven."
Operating the control panel in his hands, he wriggles all of the plane's flaps and gives the propeller a quick whirl.
And then it is off - but not for long. The plane races about 40m down the road before sharply turning right and ends nose down in the soil of a field.
First rule of being an entrepreneur: learn from your mistakes. Mr Li chases after the plane, looking a bit perturbed.
The orange propeller is broken before the aircraft has even got airborne. But Mr Li quickly changes the propeller and soon the aircraft is looping around us in the sky above.
Mr Li employs eight people in his home city of Chongqing. He tells me he has sold dozens of the planes for about $300 (£183) each.
But what makes Mr Li proudest are his innovations in the plane's design. He has built remote-controlled doors on the bottom of the aircraft that mean you can drop firecrackers when it is in flight.
It is all a bit of fun, he insists. But Mr Li is serious about protecting his designs.
"When it comes to copying, the Chinese are the best in the world," he said.
"I fear that if I don't have a patent for my design that it would simply get stolen. For that reason, I don't even give people a drawing of my plan when asked."
Government support
While copyright abuses and intellectual property theft remain rampant here, China is desperate to bottle the can-do, creative spirit embodied by Mr Li.
The government is pouring billions of dollars into the creative industries to support a new breed of entrepreneur in the hope of creating higher-end products that will generate higher-paying jobs.
While the government still wants to see "made in China", it wants to see created, designed and innovated in China as well.
As part of this national blueprint, the authorities built a $690m animation facility in the port city of Tianjin - close to the capital, Beijing.
The vast, sprawling complex - it looks like a university campus - opened in 2011 and is home to hundreds of animation, film and computer game companies.
The companies pay below the market rates for their offices. They also have access to top of the range facilities such as 3-D studios.
One of the animation companies is run by Yang Zhengxiang. The 39-year-old produces cartoons and animated films in the style of traditional Chinese paintings.
He says that with government support he has managed to expand his business from 10 staff to almost 70.
"Without government support we'd still be eating, living, and working in a single apartment," he tells me.
"I wouldn't be able to pay insurance for my staff and I would have trouble holding onto them. Parents used to come to our studio and drag their kids away. That doesn't happen anymore."
Growing need
After years of blistering expansion China has seen its growth rate slow in recent years.
One of the reasons has been an economic slowdown in China's key export markets such as the US and eurozone, which has hurt demand for its goods.
That has prompted Chinese policymakers to take measures to sustain a healthy rate of growth going forward.
At the same time, China is also trying to move away from the label of being a manufacturer of just low-cost goods.
Policymakers are keen for Chinese businesses to make goods that would not just help boost demand for its exports, but also create higher paying jobs.
The hope is that higher wages would eventually see people spending more money and spur domestic consumption and future growth.
And Beijing is betting big on innovation - seen as one of the key factors towards achieving that aim.
But in a country geared towards conformity rather than creativity it will take more than just money to bolster this industry.