TV broadcasters fear digital frequency spectrum battle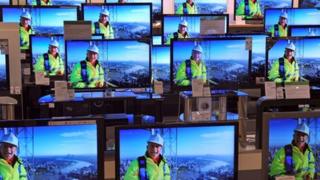 Demand for new mobile services is growing so fast that the UK's TV networks fear they may be squeezed out by competition for limited frequencies on the radio spectrum they broadcast over.
The Freeview digital TV stations are unhappy about a plan to move them from their existing broadcast frequencies, and worry about being asked to make do with less spectrum overall in the long run.
Their umbrella body, Digital UK, has issued a report emphasising the economic and social importance of digital terrestrial television (DTT) services like Freeview.
It also questions the predictions of mushrooming demand from the communications regulator Ofcom and the mobile phone companies.
Ofcom has said demand for superfast 4G and 5G mobile services, such as watching video on the move, and from the increasing number of other internet-connected devices, could increase 80-fold by 2030.
The largest mobile phone operator, Everything Everywhere, said there was a growing consensus that mobile broadband needed more spectrum.
"People do more and more on their phones and we obviously need to keep up with our customers," it has said.
Scepticism
But the report from Digital UK, whose members include the BBC, ITV, Channel 4 and the transmitter company Arqiva, says the appetite for watching video on mobile devices - one of the greediest uses of mobile spectrum - is largely being met by wifi.
It says three-quarters of tablet computers are today wifi only, with no mobile connectivity.
It claims Freeview creates "more value per unit of spectrum" than mobile broadband and generates almost £80bn a year for the UK economy, as well as promoting competition by ensuring viewers have a choice of how to watch.
It also addresses a suggestion to limit the number of services on Freeview to the "public service" channels, arguing that it would not be in viewers' interests and would only free up about a third of the DTT spectrum.
The report comes as Ofcom is consulting on a plan to move Freeview in 2018 from its current position in the 700MHz band of the radio spectrum to a new position at 600MHz, which is where the old analogue TV services used to sit, so as to make 700MHz available to mobile phone companies.
A spokesman for Digital UK said of the move: "We're sceptical that it's necessary. If it does happen we want it done in a well-planned way. And we don't think broadcasters or viewers should foot the bill."
A spokesman for Ofcom said DTT was important for the cheap, universal coverage it provided for public service broadcasting channels.
"We have no intention of sacrificing DTT," he said.
The 700MHz band is already used for mobile services in the US and Asia and is likely to be allocated globally for mobile use at the next World Radio Communications conference next year.
Higher vs lower
There are plenty of higher frequency bands available for mobile, but lower frequencies are better because their signals pass through walls and other obstructions more easily. And that is also why they are used for broadcasting.
Nevertheless, so great is the potential demand that higher frequencies are also being pressed into service.
According to Ofcom, half of all adults in the UK now own a smartphone and one in four households has a tablet, and by 2020 up to 50 billion devices from cars to coffee machines to cardiac monitors may be exchanging information using wireless frequencies to get online.
Last October, Ofcom invited expressions of interest in 190MHz of radio spectrum at higher frequencies currently used by the Ministry of Defence, equivalent to around three-quarters of the 4G spectrum auctioned by Ofcom to mobile operators for £2.3bn last February.
Efforts are also being made to make more efficient use of existing spectrum.
Next month a series of pilot projects begin using "white spaces" in the DTT frequency band - frequencies deliberately left empty to ensure high power TV transmitters don't interfere with each other.
Among the pilot schemes are one to transmit traffic information to vehicles on the A14 between Cambridge and Felixstowe, one to give people in Glasgow access to free wifi and another to boost access to broadband in the countryside.
Behind all this activity lie two questions that are hard to answer.
One is whether in the long term people will continue to watch traditional television channels, or whether video on demand services will ultimately supplant them entirely, boosting demand for mobile video in the process.
The other is whether the mobile phone operators, whose tremendous profitability has been curbed in recent years by government and regulators and who are currently investing heavily in developing 4G services, can afford to take advantage of all this additional spectrum, for which they would have to pay a significant price.
Their traffic is growing but the underlying revenues are not.
As one mobile phone company source put it: "We would like more mobile spectrum, but we're not gagging for it."