Why Labour's bank break-up has not hurt shares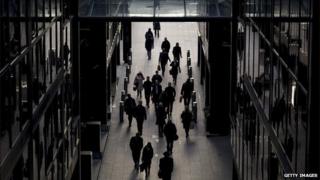 Investors seem to have taken in their stride Ed Miliband's pledge to break up the big banks and impose a ceiling on their respective shares of the market.
The price of Barclays and Lloyds shares dropped less than 1% and those of Royal Bank of Scotland by a bit more than 2%.
Which is not desperately significant on a day when the stock market as a whole was largely flat.
So why the lack of shock and awe?
Years
Well investors apparently doubt Labour's resolve to do what is necessary to force the disposal of hundreds of branches - and also think the reforms would take many years.
For example, the soon-to-launch Competition and Markets Authority could not, as currently constituted, simply be instructed to devise a way of creating two new challenger banks from the existing banks in just six months.
Nor could it be told to set a new legal maximum for the size of banks in the same time frame.
So Ed Miliband would have to introduce new competition legislation on taking office - which Labour tells me it would do, but investors believe could not be passed quickly or easily.
And bankers also believe that even if the CMA imposed a new cap on the size of banks, that could be challenged under EU law.
Or to put it another way, investors seem to believe that Mr Miliband is posturing to win votes, and would conveniently find a way to abandon the break-up plan after the election.
Which, according to Mr Miliband's close colleagues, shows that the City remains a bit short-termist and perhaps naive.