Morgan Stanley profits hit by legal costs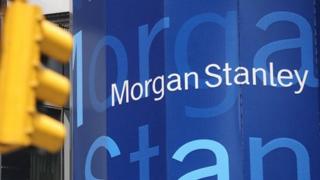 US banking giant Morgan Stanley sees net income more than halved by heavy legal fees relating to mortgage-backed securities.
Fourth quarter earnings for 2013 were $433m (£263m), or 20 cents a share, down from $982m a year earlier.
The bank's legal expenses were $1.2bn.
The results round off a week of reports from US banking giants including JPMorgan and Citigroup, who were also affected by legal costs stemming from the sub-prime mortgage crisis.
The bank said its legal costs were "specifically litigation and investigations related to residential mortgage-backed securities and the credit crisis".
Morgan Stanley's revenue was 9% higher than a year ago at $8.2bn.
For the year, the bank made $3.1bn, well up on 2012's annual total of $138m, when income was hit hard by one-off costs. Full year net revenues were $32.4bn, up from $26.1bn a year earlier.
James Gorman, the bank's chief executive, said in a statement: "Our fourth-quarter results demonstrated the consistency embedded in our business model, as revenues increased year-over-year in all three of our business segments.
"Importantly, we are continuing to address many of the legal issues from the financial crisis.'"
He said the bank was moving into 2014 with "strength and momentum".