Retail sales see strong growth in December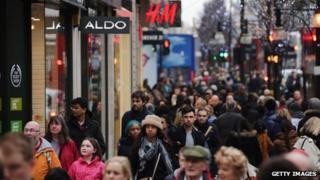 UK retail sales in December were up 5.3% on a year ago - the fastest annual sales growth in more than nine years.
The figures from the Office for National Statistics (ONS) suggested growth in consumer spending above the expectations of many analysts.
Trading updates from retailers have been mixed, and earlier this month the British Retail Consortium reported annual growth of just 1.8%.
December's sales were up 2.6% compared with November.
"This December was much better than what we've seen in previous years," Kate Davies from the ONS told the BBC.
"It's the small stores that are very much driving growth - they are seeing a consistent gain of 8% annual growth, while large stores are seeing 2.6% growth."
She said online sales now accounted for about 12% of sales, and growth in online was being seen across all sectors due to the investment many retailers were putting into their websites.
The figures covered the period between 24 November and 28 December.
'Spectacular and surprising'
The results took many analysts by surprise, particularly following less positive figures from the BRC and anecdotal evidence from some retailers suggesting a subdued Christmas.
"UK retail sales showed spectacular and surprising strength in December, as discounting by stores drove a huge increase in the volume of sales," said David Tinsley, UK economist at BNP Paribas.
"The size of the jump in retail volumes is somewhat surprising against surveys of retailers and consumers which have not looked so strong, and fairly mixed Christmas trading reports from retailers."
Over the past two weeks, a raft of trading updates from retailers has painted a picture of contrasting fortunes over the Christmas period.
Supermarkets including Tesco, Sainsbury's and Morrisons saw disappointing sales, although budget and higher-end food retailers did better.
Department stores including John Lewis and House of Fraser reported healthy sales, but Marks and Spencer and Debenhams struggled.
The positive retail figures may indicate strong growth in the overall economy in the final three months of 2013.
The UK economy grew by 0.8% in the three months to September, and more growth is expected when GDP data for the fourth quarter is released later this month.