Can Shanghai's free trade zone spur China's growth?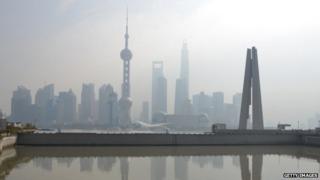 So far, not much appears to have happened.
The old bonded warehouses and factories are still here, just as they were four months ago, when this industrial park in the eastern suburbs of Shanghai was formally designated as a new free trade zone.
There is evidence of a few new buildings taking shape but it's hardly a construction- renzy.
Behind the scenes though there has been plenty of activity.
More than 40 business consultancies have been set up to help thousands of interested companies register inside the zone.
Rents have more than doubled and there is a sense of idealism and adventure.
"China is entering a new era with new leadership," Shi Huaiyu, the general manager of Shanghai Sinotone Business Consulting, tells me.
"The free trade zone could be a connecting point between China and the world, and as a young man, my dream is based on my country's dream. I hope to achieve something here."
On the edge of the free trade zone (FTZ) there's a reminder of China's existing model of growth based on energy-intensive, heavy industry as the chimneys of a power plant belch smoke into the air.
The zone is supposed to be all about moving to a new model; creating the conditions to encourage the financial and service sector companies that are vital to a consumer economy.
Attracting foreign companies
Part of that means giving greater access to foreign companies to unleash diversity and competition.
But while the approvals process has been speeded up inside the zone, with business licences granted within just a few days, so far the majority of the interest is coming from domestic companies.
Of the 60 registrations Mr Shi's consultancy has facilitated so far, around 70% are for Chinese businesses.
Perhaps, despite the initial high hopes when the FTZ signboards went up four months ago, some foreign companies are beginning to wonder if it really will offer a radical departure from what they can do in China already.
Certainly, in terms of some of the bolder promised measures, like full currency convertibility and interest rate liberalisation, China's policy makers do appear to be moving cautiously.
China's central bank has recently issued broad guidelines but some grumbling can be heard from the foreign banking sector about the lack of detailed regulations that they can actually begin to implement.
"We think it will be quite difficult for them to liberalise interest rates just in the free trade zone," says Julian Evans-Pritchard, economist with Capital Economics.
"That is because any liberalisation is likely to see interest rates rise in the FTZ. That means financial institutions in the rest of the country would want to park more in the zone than in the rest of the country."
To avoid such a destabilising flow of money the authorities, he says, would need to put a very strong firewall up between the FTZ and the wider economy.
But offering banks the ability to freely set rates for the limited number of borrowers only within the zone doesn't seem such an attractive proposition for a bank, and nor does it offer Chinese policy makers the benefit of testing the reforms in any meaningful way.
Fully convertible yuan?
There's the same dilemma with currency convertibility.
If the current, unsustainable economic model really is going to be rebalanced away from big government spending towards one based on consumer spending then market forces will need to replace the power of the state.
So, China is planning to move towards full convertibility of the yuan, eventually allowing individuals to make investments abroad and companies to borrow money abroad.
But once again, as they trial the reform in the FTZ, they'll need a strong firewall, in an attempt to limit the danger of sudden, large-scale capital flows.
"Doing that is going to be a challenging task," says Rajiv Biswas, chief economist Asia Pacific at IHS.
"That's why it's taking them so long to come up with any concrete rules.
"If there is a Chinese company that sets up a subsidiary in the FTZ and could have clients across the mainland - how do you differentiate their operations? It is hard to see how they're going to get around it."
Inefficiencies
China's old economic model based on infrastructure spending and exports is still delivering a level of growth even half of which would be the envy of most developed economies.
But everyone, the government included, agrees that debt is rising, overcapacity is growing and the inefficiencies are starting to tell.
There is certainly no shortage of pioneering domestic companies hoping to gain a foothold in the new FTZ.
But whether it is really going to be the gateway to China's future, a testing ground for the bold economic reform now so desperately needed, there is not yet enough evidence to judge.