Neway Valve: Chinese firm's shares soar on debut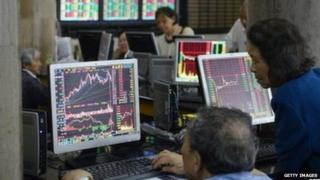 The first Chinese company to list in mainland China in 15 months has seen its shares jump by as much as 30%.
Neway Valve, an industrial valve manufacturer, raised 1.46bn yuan ($241m; £147m) through an initial public offering (IPO) in Shanghai.
The listing is the first in China since 2012, when regulators halted new listings amid concerns over investor confidence.
It had been the second biggest IPO market in the world after the US.
China's new listing rules say shares may only rise up to 20% on opening, and regulators temporarily halted trading of the firm's shares on the Shanghai Stock Exchange.
China's financial regulator said earlier this week that supervision of IPOs on the mainland would be tightened as more than 750 firms look to go public.
The new rules introduced in January will allow the China Securities Regulatory Commission (CSRC) to make random spot checks of investor roadshows.