Labour to force bank break-ups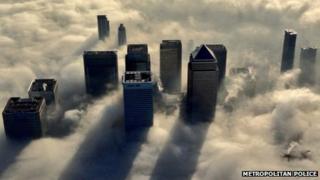 Ed Miliband will on Friday commit that a Labour government would create two new large banks to challenge the existing big banks.
It would instruct the soon-to-be created Competition and Markets Authority to devise the exact way to create these banks.
Labour officials have told me that it would expect the new challenger banks to each have at least 6% of the personal current account market - which was a criterion used by the Independent Banking Commission for an effective competitor.
These officials acknowledged this would entail the break up of the UK's largest retail banks, including Lloyds and Royal Bank of Scotland.
They accepted that the uncertainty about the future structure of the two banks could blow up any attempt to privatise RBS before the election, or to sell any more of taxpayers' shares in Lloyds before it is clear who will form the next government.
'Too much power'
It would be very difficult to value either bank before it is known whether the break up would happen - which is why privatisation would be jeopardised.
Labour's plans could also lead to the forced sale of branches by Barclays and HSBC.
The plans are therefore likely to lead to falls in the share prices of big banks on Friday.
Extracts of a speech to be given by Labour's leader tomorrow say that "we have to get to the root of the decades-long problem in British banking: too much power concentrated in too few hands.
"Britain has one of the most concentrated banking systems in the world, with just four banks controlling 85% of small business lending."
To tackle the alleged excessive market power of banks, he will pledge that a Labour government would instruct the Competition and Markets Authority (CMA) to rule on:
1) How many "additional branches the big banks will need to sell off".
2) "The timetable for the divestment of branches beginning within six months of the report and completed within a five year maximum parliament".
3) A new maximum threshold for market shares which would trigger future CMA investigations if banks grow above that size - and an automatic ban on any takeover that created a bank bigger than the threshold.
Or to put it another way, Miliband will pledge that big banks cannot get any bigger.
Customers
Bankers have said to me this would lead to what they call a perverse outcome, that as they approached the maximum size they would dump customers they deemed low quality or loss-making.
It is unclear whether these customers would be able to bank elsewhere.
Labour added that the CMA will be instructed to forge the new rules and order the branch disposals based on three criteria:
1) The creation of "at least" two new challenger banks "with significant market shares".
2) Improvements in the price and quantity of lending to small businesses.
3) Improved service for all customers.
On Wednesday, the governor of the Bank of England, Mark Carney, told the Treasury Select Committee that "just breaking up an institution doesn't necessarily create a more intensive competitive structure... It's not just about one aspect. You need to look at the entire business model and risk profile."