MPs criticise government over help for UK exporters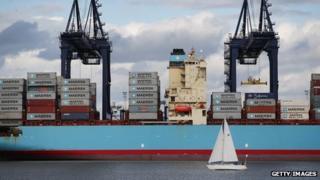 Efforts to boost UK exports are being hampered by strict visa controls and a lack of co-operation between government departments, MPs have warned.
The Public Accounts Committee said the UK looked set to miss Chancellor George Osborne's target to double the value of its exports to £1 trillion by 2020.
The PAC said that the UK "is not performing as well as Germany, France and Italy".
A government spokesman said there had been "real progress" on export growth.
The PAC's report said that despite the Foreign & Commonwealth Office (FCO) and UK Trade and Investment (UKTI) spending £420m last year on promoting exports, growth remained flat.
The FCO lacked the necessary information to assess the effectiveness of its promotional activities, while UKTI needs to work harder on finding new opportunities in overseas markets.
In particular, much more could be done to help small and medium size firms overcome the barriers they face in finding new markets, said the committee's chairwoman, Margaret Hodge.
The committee said the two departments needed to work more effectively together, but it also highlighted "tensions" with the Home Office over its visa procedures.
"The Home Office's measures to secure the UK's borders, for example, through setting visa entry requirements, can discourage business travellers from other countries from visiting the UK. This potentially affects export opportunities," the report said.
It continued: "The FCO and UKTI told us [the MPs] that they are aware of a high level of concern in some countries about the time-consuming process of getting a UK visa."
Mrs Hodge added "UKTI and the FCO should look into the difficulties experienced by business travellers in obtaining UK visas and work with the Home Office to minimise them."
'Real progress'
The FCO has been pressing for the three to five-day priority visa service, currently available in 67 countries, to be extended to about 90 countries.
A same-day service, already available in India, is being expanded to cover China and six other countries.
A government spokesperson defended its export record, pointing out that the global economic downturn had inevitably had an impact on growth, especially on trade with the eurozone.
The spokesperson said: "As part of the government's long term economic plan we have set ourselves an ambitious target to double exports by 2020. We make no apology for setting a stretching target and we are working hard to achieve this.
"We are shifting our focus towards targeting high-value opportunities, providing more support and advice for UK small and medium sized businesses. We are also establishing an overseas business network which will include British Business Centres in key markets across the world including India, China and UAE.
"We have made real progress through our increased efforts in some of the growth markets further afield: exports to China, for example, have increased by 91%, and exports to Russia are up by 118%."