Airport expansion debate 'like Bafta awards'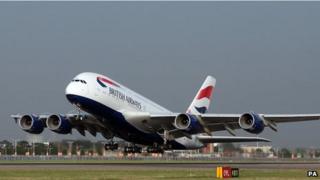 The process for picking where Britain's next runway should go has been ridiculed as being like a "sort of Bafta awards", in a speech approved by Mayor of London Boris Johnson.
The mayor's aviation adviser, Daniel Moylan, also said it had "a touch of the Simon Cowell about it".
Mr Moylan told the BBC he was frustrated that the Airports Commission had refused to meet them since its interim report came out in December.
The report appears to favour Heathrow.
Two of the three shortlisted options involve a third runway in west London, but the mayor's preferred option - a brand new mega-airport in the Thames Estuary on the other side of the city - failed to make the shortlist.
The Commission's head, Sir Howard Davies, has promised to look at the scheme in more detail before making a final decision later this year on its viability.
'Mildly bizarre'
I asked Daniel Moylan whether, by comparing the Commission's decision-making process to Simon Cowell, he was risking a clash with the man who is going to decide the future of their scheme.
He had this message for Sir Howard: "Well, come and talk. He's refused to have any meetings with us since his report was published.
"His staff have refused, which is mildly bizarre," he added. "Maybe one said it in a way that encouraged him to do so, and maybe one said it in a way that put him off. We'll find out."
He also told me that he didn't know, but he "strongly suspects", that the estuary scheme was added to the interim report at the last minute, probably to make the process look more open.
A few days before the report came out, Boris Johnson was threatening all-out war if rumours were true that the estuary scheme was to be dropped.
A month or so ago, Sir Howard Davies told me that any plan to build in the Thames had higher hurdles to jump over than the other schemes, mainly because of concerns over the cost and the impact that closing Heathrow would have on London.
In theory, the airports debate was pushed into the long grass when they set up this Commission. They were told not to report back until after the next general election in 2015.
But make no mistake, this debate will get punchy long before then.
If Sir Howard decides later this year that the estuary is a goner, Boris Johnson won't just say, "Thanks very much," and go away quietly.
When does he ever?