Thousands of consumers switch banks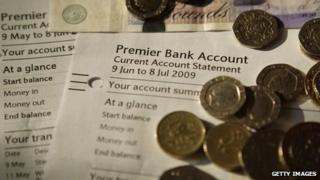 More than 300,000 consumers changed current account provider in the final three months of the year, using a new bank switching service.
The 306,240 switches were up 17% on the same period a year earlier amid a major advertising campaign.
A total of 33 banks and building societies have signed up to the new Switch Guarantee.
Current account holders should be able to move their bank account to another provider within seven days.
After a customer has switched an account, a new redirection service automatically transfers any payments accidentally made to a customer's old account to the new account for 13 months.
"With the launch of the new service, we have set out to eradicate any concern customers may have had in the past about switching their current account, and although our work isn't yet done, we have got off to a great start," said Adrian Kamellard, chief executive of the Payments Council, which oversees the project.
Some 83,729 accounts were switched in December, a 54% increase on the same month a year earlier. However. switching peaked in November with 105,000.