Deadline set to swap old £50 banknote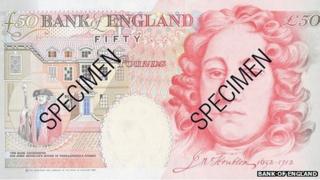 Shoppers with an old-style £50 note featuring the image of Sir John Houblon need to spend it or deposit it by the end of April.
The banknote is being withdrawn from circulation by the Bank of England. The notes can be used until the end of 30 April.
Retailers and some banks can refuse to accept the note after that date.
Sir John was the Bank's first governor. His image was replaced on the new note with Matthew Boulton and James Watt.
The pair feature on the new note partly because they were instrumental in manufacturing coins that were difficult to counterfeit. The note went into circulation in November 2011.
Anyone who has an old £50 note - which was first issued in April 1994 - can exchange it at any bank, or spend it, by the end of April. Any institution can refuse it after that.
However, Barclays, NatWest, RBS, Ulster Bank and the Post Office have all agreed to exchange Houblon £50 notes, up to the value of £200, until 30 October.
Any old notes that no longer have legal tender status can be exchanged at the Bank of England itself at any time.
There are approximately 224 million £50 notes in circulation, of which an estimated 63 million are Houblon notes.
The Bank of England recently announced plans to introduce plastic banknotes into circulation. The £5 note featuring Sir Winston Churchill will be the first polymer banknote in 2016.