Banking bonuses: How much do they matter?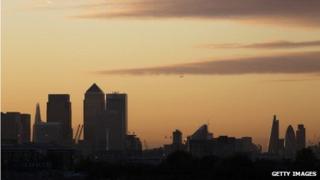 The debate over bankers' pay has resurfaced with Labour's call for a block on Royal Bank of Scotland paying bonuses of double its bankers' annual salary.
Since the banking crisis in 2008 - there have been reforms, and calls for more.
Many of those in the industry say bonuses are vital for keeping talent - others say they are out of proportion.
We canvassed the views of experts on the topic.
The bonus sceptic
Luke Hildyard - head of research at the think tank the High Pay Centre
"We haven't seen convincing evidence that a bonus cap would drive people abroad. We are pro business so if we had seen such evidence we may revise our view.
"But there is also a lack of real evidence rather than anecdotal that the so-called top talent in the banking sector is irreplaceable.
"In all jobs in all sectors people leave for more money or other reasons and they are successfully replaced.
"Pay in banking is too high, and the bankers are not as irreplaceable as their banks seem to perceive them to be.
"Pay in the financial services sector has contributed to a risk-taking bonus culture which has proved damaging to society overall."
The headhunter
John Purcell at the city recruitment firm Purcell and Company
"If the likes of RBS were to be ultimately damaged by high-performing people leaving, that ultimately damages us on the whole as an economy.
"What went on in the past with bonuses was out of line. But there's a balance to be struck between commercial reality and politics.
"Almost nobody outside the financial sector understands banking - they think bankers go around with wheelbarrows of cash. But the truth is that a very small number of people can make an enormous difference to a company, and if they leave the company suffers.
"It's a bit like a football club. It rapidly goes downhill if a fantastic manager leaves. Extraordinary individuals can make a huge difference and that's why they get extraordinary pay.
"There is clear evidence I have seen of individuals, especially in smaller companies, moving to places like Singapore, Switzerland, Hong Kong and yes, New York."
The North American view
Ralph Silva - banking analyst at SRN
"We need to infuse some morals and ethics into these institutions. But as far as bonuses go, they (the banks) will find a way to pay perks.
"The problem with bonuses in all of Europe is the amount that is paid in America. The US banks have been doing very well and have been paying huge bonuses.
"They are getting lots of British bankers ready to get on a plane and go to New York City, and they are going to have to start paying bigger bonuses to keep people in the City of London.
"Bankers are fickle, and they will move - at a certain level. The small number of very top earners will make £5m to £6m and they will move for that.
"But for the average City investment banker, earning between £150,000 and £500,000, an extra 10% won't make enough of a difference. But double it? And it will."
Former banker
Chris Roebuck - visiting professor at Cass business school, and formerly at Citigroup
"Yet again what is an important issue for the British economy is being used for political point scoring.
"These people - the top level bankers - are not doing business in relation to UK High Street banking, they are doing business related to very large global business deals.
"Whilst it is understandable that people compare these pay levels with those of most people in the country, in comparison with their international counterparts their pay here in the UK is relatively low.
"The reality is that, should these people wish to, all they have to do is to walk across the road in London to an American bank, to JP Morgan, Goldman Sachs, or any other non-EU bank and they will be paid more.
"This is a global issue. In a global market. We do not have the power to deal with the issue of bankers' bonuses as one country, and if we use legislation to try to do so - in the end the market will win - and we will lose some of the tax revenues we so badly need for our schools, hospitals and other critical services."
"These people are not dealing with people's High Street accounts - they are investment bankers doing massive deals across the world.
"If JP Morgan's foreign exchange business is done through New York the person doing it could be sitting in London and could be paid through New York.
"We should also remember that the financial services sector brings in over 10% of UK GDP."
The banker's spokesperson
Anthony Browne, British Bankers' Association
"There were a lot of problems with bankers' pay in the past, but it has been fundamentally reformed. People are being given longer-term rewards for longer-term behaviour and performance.
"The sums of money those in the financial services sector get don't really compute for the average wage earner - but it is a competitive market and it is a global market for bankers.
"A lot of people come to the City of London from elsewhere in the world, and that is positive for the UK economy. Bankers come here to win business, they pay taxes and they create jobs. It is very important for the UK economy.
"There have been reforms to the bonus culture around the world. Do people leave? No. But certain legislation could harm London's competitiveness. London used to be the leader in financial services, but it lost out to New York. That is not good for the economy."