Huawei sees operating profits jump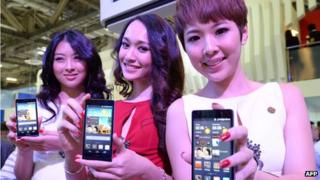 Chinese telecom equipment giant Huawei has said its operating profit rose by more than 40% last year.
It expects to make an operating profit of up to 29.4bn yuan ($4.9bn; £3bn), compared with 20bn yuan in 2012.
The firm said growth in emerging markets helped offset subdued revenues in economies such as US and Australia, where it has faced security concerns.
Huawei's profit was also boosted by the success of its smartphone division and cost cutting measures.
Cathy Meng, the firm's chief financial officer, said the company was likely to see its business grow further in the coming years amid growing demand for its products.
"In the next decade, more people will spend more time using more applications," she said. "This will generate more need for data and services, thus increasing the momentum of network and device development."
The firm is also expected to benefit from China's continuing push to improve the telecom infrastructure across the country.
Last month, the country's three state-owned phone carriers, including China Mobile, received commercial licences for fourth-generation (4G) wireless services.
Smartphone boost
Huawei, which has traditionally concentrated on making telecom network equipment, has also benefited by diversifying into fast-growing sectors such as smartphone manufacturing.
And the company has highlighted that sales of smartphones in China have helped boost profits.
However, the firm has found it tough to grow its business in markets such as the US and Australia amid security concerns.
There have been worries over Huawei's association with the Chinese government and military.
The concerns over its association with the Chinese authorities have been driven, in part, by the fact that the company's founder, Ren Zhengfei, was a former member of the People's Liberation Army.
But the Chinese firm has repeatedly denied those allegations, and stressed that it is 100% owned by its employees.