Beanie Babies creator Ty Warner avoids prison for tax evasion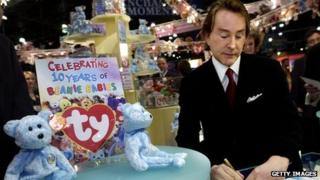 The billionaire creator of Beanie Babies toys has avoided prison for hiding millions of dollars from US tax authorities in a Swiss bank account.
Ty Warner was sentenced in a Chicago federal court to two years probation and 500 hours of community service.
He could have faced up to five years in prison after having pleaded guilty to a single count of tax evasion.
The 69-year-old had apologised ahead of the hearing, saying he felt "shame and embarrassment" for his actions.
"I never realised the biggest mistake of my life would cost me the respect of those closest to me," Mr Warner said.
US prosecutors had accused Mr Warner of hiding $25m (£15m) in a secret bank account in Switzerland, starting in 1996, and filing false tax returns.
Following the charges, Mr Warner struck a deal with prosecutors in October where he pleaded guilty to a single count of tax evasion.
The businessman, who owns toymaker Ty Inc and Ty Warner Hotels and Resorts, then paid a $53m fine, one of the largest civil penalties ever levied.
He also agreed to pay millions of dollars in back taxes and interest, and filed amended income tax returns for the years 1999 to 2008.
Beanie babies
The Illinois tycoon had a poor and unhappy childhood, according to his lawyers.
After failing at acting, he invested his money in a toy company that created Beanie Babies, small plush toys in the shape of bears and other animals.
They became immensely popular in the mid-1990s and created a fortune for Mr Warner, who is worth an estimated $2.6bn according to Forbes.
Lawyers representing Mr Warner said he had led a "law-abiding life" and had also donated $140m in cash and toys to various charities and organisations.
The US has been cracking down on offshore tax crimes, and more than 100 people have been prosecuted during the past five years.
A prosecutor has asked US District Judge Charles Kocoras to give Warren at least a year behind bars.
"The perception cannot be that a wealthy felon can just write a check and not face further punishment," assistant US attorney Michelle Petersen said.
But Mr Kocoras opted against prison time, saying Mr Warner's philanthropy and "endless acts of kindness" trumped his criminal acts.
"Society will be better served by allowing him to continue his good works," Mr Kocoras said.