Ivory Coast cracks down on cyber crime
By Tamasin Ford
BBC News, Abidjan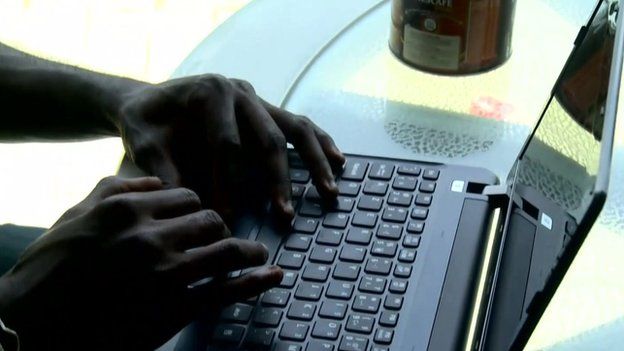 Phishing, hacking, phreaking, 4-1-9 scams - however you describe it, cyber crime is on the rise in Ivory Coast.
According to the Ivorian government, it received more complaints about cyber criminality in the first half of 2013 than any other country on the continent, making it Africa's unlikely capital of "brouteurs" - Ivorian slang for cyber criminals.
Sitting on the edge of the Ebrie lagoon in the heart of the financial district of Abidjan, one former brouteur, who would speak only on condition of anonymity, says he started when he was 16 because it was the "fashion" at the time.
As the 22-year-old nervously stubs out his cigarette, looking around to check no-one else is listening, he describes how the "love method" is the most lucrative.
"You [find] yourself a man or a woman who is looking for love," he explains. "Then you start chatting and exchange photos."
After that, he says, comes what they call the tax - the money he would wheedle out of his unsuspecting "lover".
"You say, 'Ok, I want to come back to France but I have some debts. I need, for example, 5,000 euros (£4,200, $6,800)'."
And it is as simple as that. His "lover" would transfer the money, and as soon as he had his hands on the cash he would vanish from their magical online romance.
"In a good month, depending on the number of contacts, I could earn between 5,000 and 12,000 euros - sometimes 15,000," he says.
And what did he spend all his money on? "Swag," he replies, with a smile. "You know, women, going out… clothes, perfume."
The average age of a cyber criminal in Ivory Coast is now between 16 and 17, each making around $13,000 (£8,000) a month - teenagers taking advantage of Ivory Coast's cheap and fast internet.
At a cyber cafe in Abidjan's Riviera district, an electric fan blows humid air around a small dusty room. It costs less than $1 for four hours online - a small price to pay if you can turn that into thousands of dollars.
But Abidjan's thriving online community is fighting back against the activities of an increasing number of brouteurs springing up across the country.
Last year they voted for Abidjan's first web mayor - 22-year-old Emmanuel Assouan.
Dressed in a smart, tailor-made suit and armed with his tablet and smartphone, he teaches young people about legitimate methods to make money online - for instance through blogging or web design.
"We try to meet them in the workplaces, generally in the cyber cafes," he says. "We want to sensitise them to quit the darkness in which they are destroying the image of our country."
One of his advisers, another young IT expert, Bacely Yorobi, pulls out his phone and begins playing one of the many Ivorian songs about cyber crime.
"The DJ sings the names of the cyber criminals. They become like celebrities," he says.
But it is estimated that these "celebrities" in Ivory Coast have conned more than $15m out of people from all over the world over the last two years - and that is just the money police have managed to trace.
At an office in one of the city's many glittering skyscrapers, Stephane Konan, the co-ordinator of the country's intelligence services, says Ivory Coast now has the highest number of cyber crime complaints in Africa.
"When we exchange with our colleagues from other [African] countries, none of them report as many [cyber crime] complaints as us," he says.
"It's less risky to commit a crime with a computer than to do the classical crime that we were seeing in Abidjan in the '90s and 2000s, with lots of bank robberies by very young people. We don't see that any more.
"All the young people have dropped the guns and the cars to commit a cyber crime."
The country is quickly becoming infamous for technology crime, but it is also becoming recognised for how it is dealing with it.
It is made up of the country's law and security forces and is the first of its kind in Africa.
It has a new forensic laboratory, which works on providing digital evidence. "Two years ago we did not have that capability," says Mr Konan, who heads the PLCC.
"First of all we identify, without any doubt, who was behind the screen when the victim was scammed," he explains. "Secondly, we link that person that is identified with the crime with digital evidence."
Last year alone they made nearly 100 arrests, naming and shaming the convicted criminals on the government website, while the cyber crime law, passed last May, has introduced prison sentences of up to 20 years.
The data has also given them more of an idea about how the Ivorian cyber criminal works and who they target.
For instance, they now know the "love" method is by far the most common way of conning people out of their money, and more than half their cases come from complainants in France, followed by Ivory Coast, then Belgium and Canada.
Back on the Ebrie lagoon I ask the former cyber criminal whether he has any regrets.
"You know, when I was doing it, some part of me felt guilty," he replies. "But then you just say to yourself, it's only money. So no, now I don't have any regrets. That's it."
No regrets but after being caught twice, he's not taking any more chances. He is now at university, studying IT.