Profile: Mary Barra, General Motors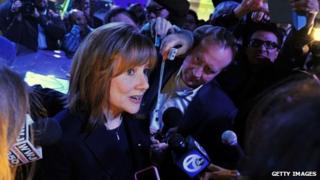 It's hard to outshine the hundreds of gleaming brand-new cars and trucks here on the floor of the Detroit motor show. But Mary Barra has done just that - leaving behind a trail of journalists tripping over themselves for just a glimpse of the show's biggest star.
Ms Barra, 52, takes over as boss of General Motors (GM) on Wednesday - the first woman ever to run a global carmaker.
News of her appointment in December raised eyebrows, mostly because it used to be that the word "she" referred to a sexy sports car here in Motor City.
But former GM vice-chairman Bob Lutz - one of the prototypical petrol heads here in Detroit, who once worked with Ms Barra - says he's not surprised she rose to the top job.
"People ask, can a woman be a car guy? Of course she can," Mr Lutz told the BBC.
"All you have to do is look at the GM products that have been executed under her - they're all smash hits.
"Mary is the right person for the job, no question about it."
So who is the woman set to lead GM's revival?
Daughter of Detroit
Ms Barra is a product of US car country through and through.
She grew up in Waterford, Michigan and her father, Ray Makela, was a die maker at the Pontiac car plant for 39 years.
Her entry into the car industry came early, as part of a co-operative programme at General Motors Institute, now Kettering University, where she worked at a Pontiac plant.
Walking the streets of Flint, Michigan - the home of Kettering - it's easy to see why Ms Barra was drawn to the car industry.
With streets like Chevrolet Avenue, it's hard to think of anything else but cars.
Prof Mohammed Torfeh taught Ms Barra's control system class in 1984, helping her learn how to design various aspects of cars, such as how to make windscreen wipers work.
"I remember vividly even how she was holding her notepad - she was always holding it in her left hand," says Prof Torfeh.
He says she was always the leader, taking charge of mostly-male groups, balancing her strong technical knowledge with her easy-going communication skills.
"You could see that she was a leader, even at that time - she was a superstar."
First in 60 years
Ms Barra rose quickly through the ranks at GM after she attended Stanford Business School on a GM scholarship.
She managed the Detroit-Hamtramck Assembly Plant, and then was promoted to vice president of global manufacturing engineering.
She then ran GM's human resources department before being appointed the company's head of product development by outgoing boss Dan Akerson in 2011.
Unlike GM's past leaders, Ms Barra is an executive who has come up on the product side of things.
"In the last 60 years, all of [GM's] chief executives have come out of finance," says Guggenheim analyst John Casesa.
"This represents a big mindset change at GM - and I think her appointment promises to really change the company in a positive way."
'You better listen'
Ms Barra is married with two children, and she's been known to drive some of her company's more racy models during weekends at the track.
Her appointment as the head of GM doesn't come as a surprise to those who know her well.
Kettering University president Robert McMahan Jr works with Ms Barra in her role on the university's board of trustees, and says she's always struck him as a "special leader".
He remembers running into her at an airport in China last year, and was struck by how she took time to speak to his 16-year-old son.
"I turned to my son [and said]: 'I bet you a month's pay that you just met the next CEO of GM,'" he recalls.
Those who know her say Ms Barra is a skilled communicator who knows how to walk the line between technical prowess and approachability.
"In meetings she listens when you talk," says Mr McMahan, who adds that this isn't just about ego flattery because "when she speaks, you better listen".
'She always delivered'
Ms Barra will join the club as one of 23 women who now run Fortune 500 firms.
She will be closely watched, especially as her appointment comes as GM has finally shrugged off the last of its partial ownership by the US government.
The firm recently reported a surprise dip in sales, and its competitor Volkswagen has recently increased its market share in the increasingly important Chinese market.
Officials at GM say Ms Barra plans to visit all of the firm's many plants, in Latin America, Africa and China, during her first few months in the job.
The hope is that at the head of GM, she can continue to do what's she's done since she started at the firm aged 18.
"She always delivered," says Prof Torfeh.